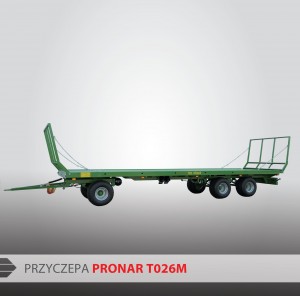 Universal 3-axle PRONAR T026M bale transportation trailer with 18 tons allowable total weight. Front axle on turntable and extended rear frame adjusting it to the load parameters significantly increases functionality of this trailer. Reinforced 4 mm floor of this trailer is highly resistant to deformation what makes it excellently when transporting straw or hay/silage bales, pallets and euro-pallets. Single central weld on the floor improves aesthetic and user properties as well as durability of the trailer and eliminates the occurrence of corrosion. Profiled and rounded side strips protect film-wrapped bales against sliding off the trailer without damaging them. Extended rear frame adjusting it to the load parameters. There are two systems of side ladders mounting availible: standard 1 point mounting or 2 point improved mounting system. The trailer is suited to additional assembly of side under-ride protections, capacious tool box and rear under-ride guard integrated with rear lights in accordance with european directive.
Light, stable construction and optimal floor thickness .

The height of the ladders allows to load up two layers of bales, low construction ensures easier loading.

Width of load platform adapted to euro-pallets transport.

A rigid and resistant to overload construction .
Technical data
Technically permissible total weight:
19000
[kg]
Permissible total weight:
18000
[kg]
Load capacity:
13580
[kg]
Empty weight:
4420
[kg]
Loading space:
24 (26,2*)
[m 2]
Loading platform length:
9695
[mm]
Loading space length:
9880 (10770*)
[mm]
Loading platform width (with edges/without edges):
2517/2410**
[mm]
Dimensions: length/width/height:
12000***/2550/2880
[mm]
Loading platform height:
1680
[mm]
Platform thickness:
4
[mm]
Platform height, measured from the ground:
1180
[mm]
Wheel track:
1820
[mm]
Suspension:
parabolic springs
Tyres:
500/50/17
Maximum speed:
40
[km/h]
Tractor power requirement:
93,6/68,8
[hp/kW]
* With pulled out rear frame exending the platform length
** EURO pallets transportation widht
*** Standard platform length (without rear frame pulled out)
Standard equipment
Rounded profiles on the floor edges
Reinforced platform floor – 4mm
Frame made of open and closed rectangular profiles
Frame adjusted to the hydraulic walls mounting
Frame adjusted to the rear hitch mounting
Drawbar type: V- type rigid with towing eye ø40 mm
Steering:  rotating turntable
Rounded edges of side ladders (front and rear)
Platform extension
Holes for belt tightening on the platform side
Holes for belt tightening on the side ladders
Braking system: single line, double line air or hydraulic
Crank hand brake
Double-component chemically hardened painting materials, UV-resistant
12V lightning system with rear electric socket and clearance lights
Rear underrun protection according to 70/221/EC
Rear electric socket
Wheel chocks + racks (2 pcs.)
Platform color: green RAL6010 PRONAR
Wheel chocks hidden in galvanized pockets
Additional equipment (optional)
Hydraulic sidewalls with vertical ladders at the front and rear
Drawbar: Y type with ø40 fixed towing eye
Tool box
Side underrun protection acc.to 89/297/EWG
Two belt-rolling devices with trigger
Side ladders with rounded profiles mounted with four screws
Rear manual hitch, fixed****
Front and rear plastic mudguards with galvanized supports
Front and rear plastic mudguards with galvanized supports with additional mudguard fitted at the front of the rear axle
Spare wheel winch unit
Braking system: combined (double air line + hydraulic)
Braking system: double air line with automatic (ALB)
Braking system: combined (double line air +  hydraulic with electric safety valve and braking force controller)
Tyres 520/50-17
Spare wheel (separately) 500/50-17 14PR
Spare wheel (separately) 520/50-17
Warning triangle
Non standard colours according to RAL CALSSIC codes
**** trailer is not designed for towing seocnd trailer according to homologation documentation