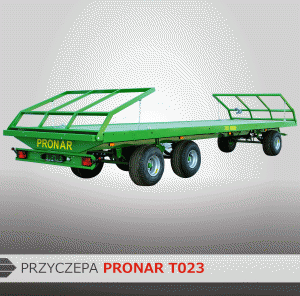 PRONAR T023 bale transportation trailer – reliable, failure-free and universal. Perform excellently when transporting cargo volume requiring large, streight surfaces, mainly to transporting straw or hay/silage bales, pallets and euro-pallets. Extended rear frame adjusting it to the load parameters. Chemically hardened and UV-resistant painting materials provides protection against corrosion. Stable and strong parabolic spring suspension provides longer service life. Front and rear folded side ladders protect the load and ensure its appropriate fastening during transportation.
Light, stable construction and optimal floor thickness .

The height of the ladders allows to load up two layers of bales, low construction ensures easier loading.

Width of load platform adapted to euro-pallets transport.

4

IN ACCORDANCE WITH EUROPEAN STANDARDS

Rear under run protection in line with EU directives, homologated rear hitches.
Technical data
Technically permissible total weight:
16000
[kg]
Permissible total weight:
15000
[kg]
Load capacity:
11300
[kg]
Empty weight:
3700
[kg]
Loading space:
24 (26,2*)
[m 2]
Loading platform length:
9695
[mm]
Loading space length:
9880 (10770*)
[mm]
Loading platform width:
2435**
[mm]
Dimensions: length/width/height:
11995***/2500/2780
[mm]
Loading platform height:
1680
[mm]
Platform thickness:
3
[mm]
Platform height, measured from the ground:
1100
[mm]
Wheel track:
1730
[mm]
Suspension:
parabolic springs
Tyres:
400/60-15.5
Maximum speed:
40
[km/h]
Tractor power requirement:
83,2/61
[hp/kW]
* With pulled out rear frame exending the platform length
** EURO pallets transportation widht
*** Standard platform length
Standard equipment
Flat profiles on the floor edges
Frame: rectangular made of closed profiles
Drawbar: V type with ø40 mm fixed towing eye
Steering: rotating turntable
Side ladders: front and rear
Regulated rear frame
Braking system: single or double line air or hydraulic
Crank hand brake
Double-component chemically hardened painting materials
12V lightning system with clearance lights and rear electric socket
Rear underrun protection with integrated commercial road lighting system (according to 70/221/EW)
Wheel chocks and racks
Platform colour: green RAL6010 PRONAR
Rear electric socket
Additional equipment (optional)
Drawbar: Y type with ø40 fixed towing eye
Rear manual hitch, fixed (D=44kN)****
Side underrun protections acc.to 89/297/EWG
Tool box
Front and rear plastic mudguards with galvanized supports
Front and rear plastic mudguards with galvanized supports with additional mudguard fitted at the front of the rear axle
Spare wheel support with winch mounted under the trailer
Braking system: combined (double air line + hydraulic)
Braking system: double air line with automatic (ALB)
Braking system: combined (double line air +  hydraulic with electric safety valve and braking force controller)
Tyres 360/65-16
Spare wheel (separately) 400/60-15.5
Spare wheel (separately) 360/65-16
Warning triangle
Non standard colours according to RAL CALSSIC codes
**** trailer is not designed for towing seocnd trailer according to homologation documentation