Complaints
We are responsible for accepting complaints in an efficient and reliable manner. In cooperation with other departments, we determine the reason for the complaint and on the basis of their opinions, as well as complying with the legal provisions regarding the warranty, we make a quick and appropriate decision. As Complaint Specialists, we are divided into areas of activity – countries / Dealers
IMPORTANT
Responsible body
The complaints department coordinates the processing of complaint requests in PRONAR.
Complaint applications with a completed complaint protocol should be sent to the following e-mail address: reklamacje@pronar.pl.
Appeal procedure
Appeals against complaints are accepted in the After-Sales Service Department (17-210 Narew, Mickiewicza 101A, e-mail: dop@pronar.pl). The complainant dissatisfied with the way the complaint was handled may appeal against the decision within 7 days of its receipt.
In what form complaints and requests can be lodged
Complaints and requests may be submitted in writing or by e-mail.
What should be included in the complaint or application
Complaints and requests should include the name (company name) and address of the complainant (applicant), invoice no., machine type/part name, machine serial number (VIN) / part no. (catalog no.), a detailed description of the fault and detailed photographic documentation (video). If complaints and applications do not contain the above-mentioned data, they are left unexamined.
CONTACT – POLAND

e-mail: reklamacje@pronar.pl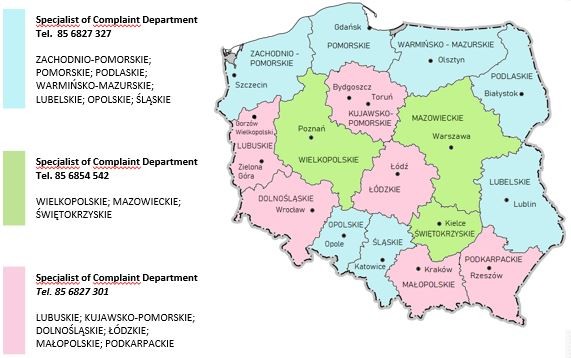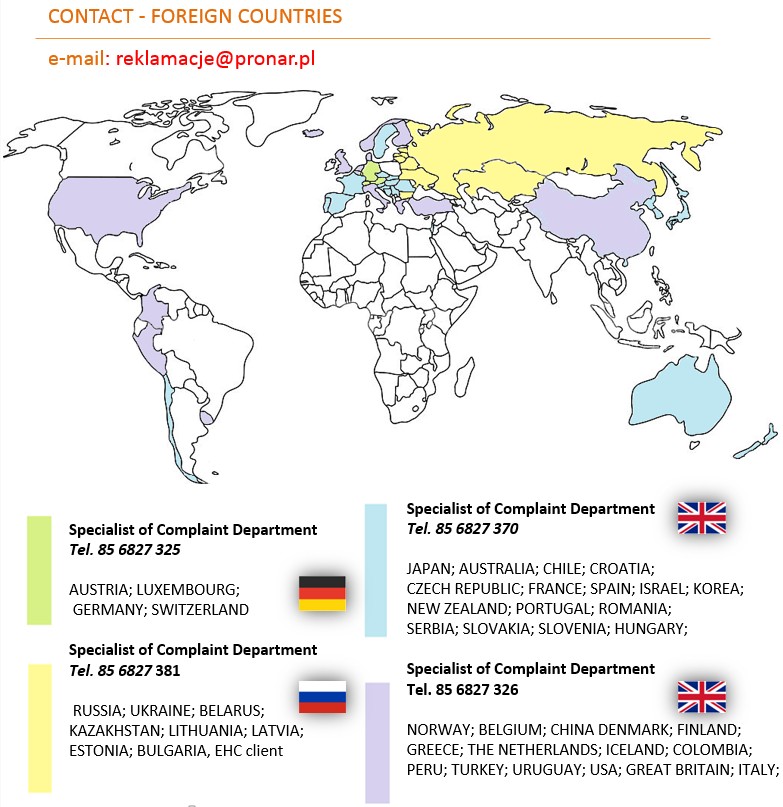 Kontakt Reklamacje
17-210 Narew, ul. Mickiewicza 101A
PL 85 6827 327, 85 6854542, 85 6827 301
EN 85 6827 370, 85 68-27-326
DE 85 6854542
RU 85 6827 381