PRONAR T027M is a two-axle bale trailer that can load up to 32 bales with a diameter of 1200mm.The trailer is designed for transporting straw, silage bales or transporting loads requiring large, flat surfaces, eg pallets or mauser type tanks. The length of the loading platform is 8500 mm, the load capacity is 13.2 tons (with standard equipment). The T027M trailer loading platform is suspended on parabolic springs. The chassis is consists of two axles with 400×120 brakes. The PRONAR T027M trailer is equipped with a turntable of 1100 mm diameter, which allows 360 ° rotation. This ensures very high maneuverability both, on the road and in the field. The drawbar which is supported by the spring facilitates aggregation with the tractor.
Trailer PRONAR T027M – features: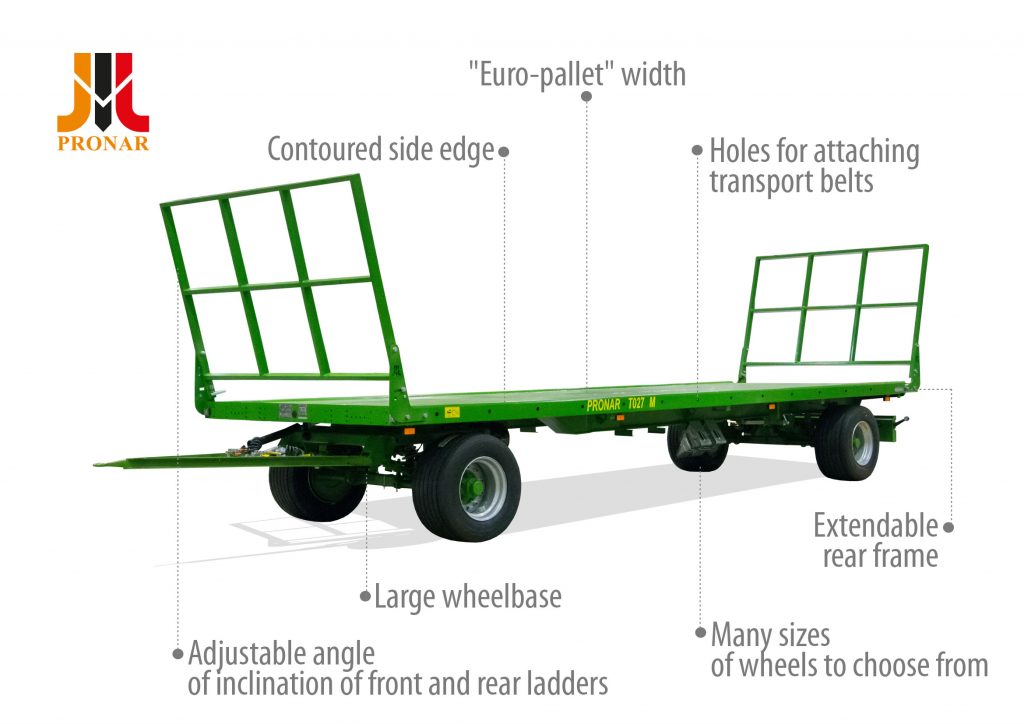 The PRONAR T027M trailer allows agricultural transport mainly of bales and grass or straw blocks. However, the dimensions of the platform and side edges enable loading of euro-pallets and wooden crates and a wide range of different palletised or packaged materials used in construction, industry, municipal services and trade.

Extending the rear frame extends the load area by 1100mm (to 9600mm), which allows transporting 32 instead of 28 bales.

Adjustable angle of inclination of supporting ladders

The front and rear resistance ladders can be set in two positions: vertical and tilted by 15 °. The change of position does not require the use of tools, because it occurs by releasing the spring bolt.

Holes for attaching transport belts

When using traditional ladders, transport belts are used to secure the load. Special holes are placed on the sides of the trailer to attach the transportation belts.

The trailer has a load platform equipped with profiled, rounded side edges, thanks to which the load is secured against slipping, and at the same time the foil of wrapped bales and other loads is protected against abrasion.

The trailer is more stable when driving on uneven ground or around a curve.

A wide range of optional equipment

The trailer can optionally be equipped with a number of functional solutions, thanks to which the user can adapt the vehicle to his individual needs.
The trailer can be equipped with a Y-type drawbar for easy maneuvering of the trailer.
Other possibilities of additional equipment raising the standard of the trailer include a tool box, side overrun protection, additional front and rear wheel mudguards, as well as rear hitch.
Technical data
Permissible total weight:
18000
[kg]
Load capacity:
13200
[kg]
Empty weight:
4800
[kg]
Loading space:
20,4 (23)
[m 2]
Loading space length (rear frame folded/extended):
8500/9600
[mm]
Loading platform width ( total/ flat):
2470/2400
[mm]
Dimensions: length/width/height:
10600/2530/2900
[mm]
Loading platform height:
1790
[mm]
Platform thickness:
3
[mm]
Platform height, measured from the ground:
1100
[mm]
Wheel track:
1960
[mm]
Suspension:
parabolic springs
Tyres:
445/45R19,5
Maximum speed:
40
[km/h]
Tractor power requirement:
109,2/80,3
[hp/kW]
Standard equipment
Platform with profiles on the floor edges
Frame made of I-beams, open and closed rectangular profiles
Frame adjusted to the rear hitch mounting
Frame adjusted for mounting hydraulic sidewalls
Drawbar type: V- type rigid with towing eye ø40 mm
Steering: rotating turntable
Side ladders with adjustment of angle inclination suitable for transportaion round and square bales
Extendable rear frame with ladder increasing the loading space
Extendable rear frame supported by pin retainer
Holes for belt tightening on the platform side
Axles ith drum brakes 400×120
Braking system: double line air
Crank hand brake
12V lightning system with rear electric socket and clearance lights
Rear underrun protection according to 70/221/EWG with lights and space for number plate
Rear electric socket
Wheel chocks and racks
Double-component chemically hardened painting materials, UV-resistant
Platform color: green RAL6010 PRONAR
Wheel chocks in galvanized pockets
Additional equipment (optional)
Drawbar: V type fixed with towing eye ø40 mm
Tool box
Side underrun protections acc.to 89/297/EWG
Rear hydraulic connections to a second trailer
Braking system: double air line with automatic (ALB)
Braking system: combined (double line air +  hydraulic with electric safety valve and braking force controller and utlets )
Brakin system without safety valve and homologation
LED lights
Front and rear plastic mudguards with galvanized supports 8 pcs.
Tyres 385/65R22,5 REG
Tyres 385/65R22,5
Tyres 500/60R22,5
Tyres 560/45R22,5
Spare wheel (separately) 445/45R19,5
Spare wheel (separately) 385/65R22,5 REG
Spare wheel (separately) 385/65R22,5
spare wheel (separately 500/60R22,5
spare wheel (separately 560/45R22,5
Warning triangle
Non standard colours according to RAL CALSSIC codes