Disc mower PRONAR PDF301C
Disc mower PRONAR PDF301C is a front disc mower with condicioner which is mounted on the tractor's three-point linkage. The mower requires PTO at the front of the tractor and one hydraulic section. Disc mower PRONAR PDF301C was designed primarily for working on heavy, uneven terrain. Its main element is the proven and reliable PRONAR cutting bar, guaranteeing high quality of mowing. The robust construction of the machine is based on modern materials and latest production technologies. In combination with a large ground following ability, the PDF301C can handle work in all conditions, while maintaining an excellent cut quality. Mower's mowing performance, at a speed of 10km / h, is 3 ha / h. To operate disc mower PRONAR PDF 301C, only a 75 hp tractor is needed
Disc mower PRONAR PDF301C – main features: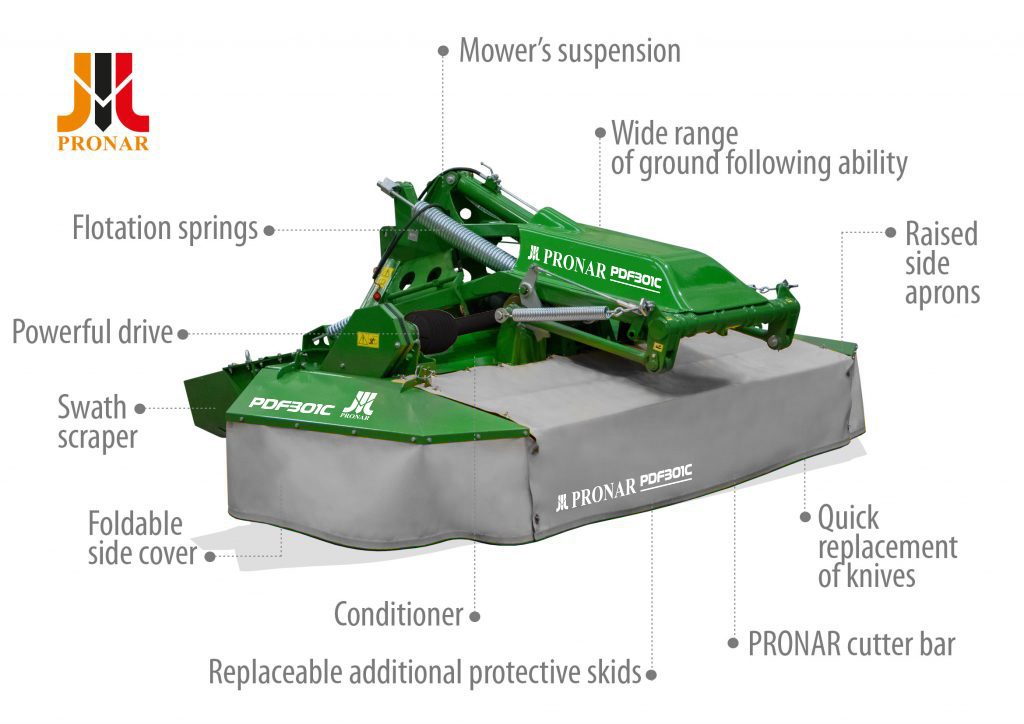 Disc mower Pronar PDF301C is equipped with a tine conditioner that accelerates the process of drying the swath, which allows to increase the yield of the forage harvest. The degree of conditioning of the material can be adjusted depending on the needs and type of mown grass. The conditioner drive was moved to the right side, balancing the angular drive of the slat drive, located on the left. Thanks to this solution, the cutting and loosening unit always stays in balance, which ensures even pressure of the cutter bar on the ground.

Wide range of ground following ability

The wide range of ground copying of disc mower PDF301C is one of its biggest advantages – it is 700 mm (450 mm / 14 ° up, 250 mm / 10 ° down) and the cross-copying range is 24 °. This ensures perfect adhesion of the cutter bar to the ground at a constant angle (regardless of field conditions) and clean and aesthetic cut.

Two strong flotation springs regulate the pressure of the cutting and loosening unit on the ground.

Mower's suspension in a trailed system

On the mower's suspension the cutting and loosening unit is mounted in a trailed system, thanks to which the PDF301C – when encountering an obstacle (e.g. stone) – can freely defeat it.

A powerful and reliable drive with shafts and gears

The drive disk provides easy access to the drive connector without removing the slat from the mower's frame.

PRONAR cutting bar is a high-strength cutting bar with an additional stiffening profile enclosed in the body of the slat. It is equipped with discs of innovative shape, what provides lower cutting resistance and lower power demand per unit of cutting width. The enlarged, high-quality gears used in the slat have low noise emissions, thanks to which the mower works quietly. Such option significantly influences the comfort of work.

Replaceable additional protective skids

Additional protective skids, made of hardened, abrasion resistant steel, are mounted as standard. Thanks to them, the cutting bar is additionally protected against mechanical damage. The operator can easily replace them after use.

Quick replacement of knives

Operating the mower is facilitated by the system of quick replacement of knives. The operator can replace worn knives at any time, without having to unscrew the cutter bar, thanks to a special tool, made of durable steel, making it easier to change them. In addition, the standard equipment of the mower is an additional set of knives.

Thanks to folding side covers, the width of the mower in the transport position does not exceed 3 meters.

The swath width adjustment range is from 1.34 to 2,04 and it is carried out by two scrapers.

Aprons ensure safety during work, and an easy way of lifting them. This allows the operator a quick replacement of knives, control of the technical condition of the machine or supplementation of operating fluids without the need of disassembling it.
Technical specification of standard equipment
Total width in working position
3570
mm
Height in working position
1300
mm
Lenght in working positiony
1940
mm
Width in transport position ( raised side protections) min/max
2980
mm
Working width
3000
Swath width min/max
1340/2040
mm
Tare weight
1220
kg
Min. power requirement
55/75
kW/HP
Efficiency ( for recommended working width)
3
ha/h
PTO speed
1000
rpm/min
Suspension
Front linkage cat. II acc. to ISO 730-1
Number of disc
7
Number of knives (item)
14
left
8
right
6
Type of cuting knives
twisted
Knives dimensions
120x49x4 Ø21
Rotationspeed of discs
3000
rpm/min
Ground following ability
up
+14 (450)
down
10 (250)
transverse
+/- 24
Transport position – horizontally at the front of the tractor
Raised on mowers cylinder and linkage
Required hydraulic output
Hydraulic connection at the front of the tractor
Swath conditioner drive
–
PTO shaft
Standard
Additional set of knifes
Standard
Spray RAL 6010  400 ml
Standard
PRONAR PDF301C standard equipment:
Additional protective skids made of hardened, abrasion resistant steel
• Drive shaft with 900 Nm clutch
• PTO shaft profile 1 3 / 8'z6
• Flotation chains
• Double swath scrapers
• Triangle hitching system to fit tractor's three-point linkage
• Lifted front apron
• Side cover folded up
• An additional set of knives
• A special tool, made of durable steel, facilitating the replacement of knives,
• Cultivator (conditioner) with spirally positioned and freely clamped tines
PRONAR PDF301C optional equipment:
Tube for documents
PTO shaft for left PTO rotation