Trailer PRONAR T700XL is the latest model of tandem tipping trailer in Pronar's offer. Trailer PRONAR T700XL has a robust construction made of high-quality materials, large carrying capacity and a functional well sealed body with hydraulic tailgate with rubber seals what makes the trailer suitable for large farms. Trailer PRONAR T700XL construction is universal, equipped with a strong, stable chassis with 4t drawbar with shock absorber and tandem suspension on four parabolic springs.
Trailer PRONAR T700XL – features: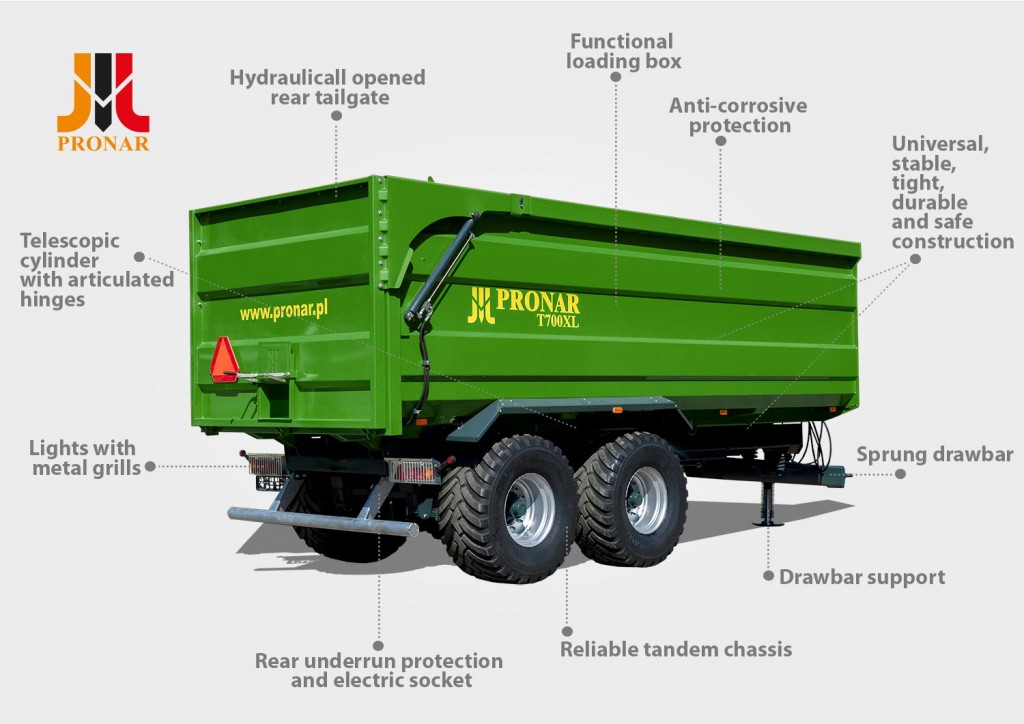 The trailer has a load capacity of 17700kg, so the trailer can be used in a very effective way.

The loading box has the shape of a trapezoidal bathtub, with an internal width of 2240mm at the front and 2300mm at the rear. Thanks to this construction, the unloading of materials like cut grass is not a problem.
The loading box has a hydraulic tailgate with automatic locking on the rear, and is sealed with a rubber seal.
Loading box capacity (26,6 m3) is optimally selected for transporting cereal grains. Fitted with 600 mm extensions the trailer enlarges capacity to 35,7m3 what makes it ideal for grass or corn for silage.
Thanks to the solid construction of the loading box made of walls and floor of 4mm thick sheets, rigid profiled walls and strong closed profile beams, it is possible to transport different materials in other sectors of the economy other than agriculture.
The box is equipped with a front window with PLEXI and the rear wall is equipped with the grain chute.

Trailer PRONAR T700XL is designed to carry 17, 700 kg of heavy cargo. The chassis frame in T700XL is made of rectangular closed profiles that can carry complex loads. Such implementation prevents structure from bending and twisting and thus affects the high stability of the vehicle when working in difficult terrain. In the tandem suspension, exceptionally strong parabolic springs and axles were designed for speed of up to 40 km / h.

PLoad-bearing components made of high-strength steel rectangular profiles form a very stable construction.
Low center of gravity ensures high stability during driving and unloading and thus very safe operation.

PRONAR trailer T700XL is characterized by sealed loading box with a hydraulic tailgate with rubber seal.

PRONAR trailer T700XL enables the transport of loose materials and agricultural products.
Thanks to very high capacity of the loading box and the possibility of using 600mm extensions, the trailer is perfect for harvesting grass or maize for silage
Because of the solid construction of the loading box made of 4mm thick steel, it is possible to transport different materials in other sectors of the economy, e.g. in municipal or construction.

HYDRAULICALLY OPENED REAR TAILGATE

The hydraulic opening mechanism of the rear tailgate allows for opening without leaving the tractor's cab. The automatic locking bolts of the tailgate make it safe to operate. The large opening angle of the tailgate upwards ensures trouble-free unloading and also loading of atypical materials.

The trailer uses a powerful drawbar, with a load capacity of 4000kg, cushioned with steel compression spring screws, adapted for extreme operating conditions. A D50mm eye hitch or K80mm ball hitch can be used for connection to the tractor.

Trailer PRONAR T700XL has a tandem suspension with four parabolic springs, equilibrium swing arms, with a 1500mm wheelbase, rigid axles fitted with Ø406x120mm drum brakes, suitable for 40km / h,

The trailer is safe thanks to its stable construction with low center of gravity and functional load box construction.
The high standard of safety is also maintained by the use of rear overhang protection, metal shields over the wheels and foldable ladders and side steps.

REAR UNDERRUN PROTECTION AND ELECTRIC SOCKET

The rear-mounted electrical socket and rear underrun protection in standard equipment simplify connection to the second trailer.

In standard equipment of the trailer's lights are protected by metal grilles, which protect them from damage during unloading as well as dirt.

FUNCTIONAL DRAWBAR SUPPORT

Telescopic drawbar support with two-section gear gives the possibility of ergonomic operation and precise height adjustment of the drawbar hitch.

TELESCOPIC CYLINDER WITH ARTICULATED HINGES

The powerful telescopic cylinder, with chrome sleeves, with articulated hinges ensures reliable operation and high durability of the tipping system.

ANTI-CORROSIVE PROTECTION

Two-layer varnish system (primer + paint) is applied to the shot blasted elements.
The system with the use of two-component chemotherapeutic paint materials gives
high corrosion resistance, high durability of coatings and UV resistance.

WIDE RANGE OF ADDITIONAL EQUIPMENT

The trailer can optionally be equipped with a range of functional solutions that allow the user to tailor the vehicle to their individual needs.
The trailer can be equipped with 600mm side extensions, hydraulic straight or foldable drawbar support. The trailer can be also fitted with different braking and lighting systems and on different tyre sizes.
The full range of options is listed in the optional equipment list.
Zapisz
Technical data*
Allowable total weight (technically):
24000
[kg]
Load capacity:
1700
[kg]
Empty weight:
6300
[kg]
Load volume with extensions without  extensions:
26,6
[m 3]
Loading space:
13,7
[m 2]
Loading case inside length:
6700
[mm]
Loading case inside width:
2240/2300
[mm]
Loading case inside height:
1750
[mm]
Dimensions: lenght/width/height:
8520/2550/3040
[mm]
Sidewall height (inside):
1750 + 600 (option)
[mm]
Floor/wall thickness:
4/4
[mm]
Platform height, measured from the ground:
1290
[mm]
Wheel track:
1960
[mm]
Suspension:
parabolic springs
Hitch-ring load:
4000
[kg]
Tyres:
385/65R22.5
Maximum speed:
40
[km/h]
Tipping system:
1-side
Tipping cylinder (piston stroke/oil requirement/working pressure):
2990mm/40L/200bar
Tractor power requirement:
136.7/100,5
[hp/kW]
Tipping angle (backwards):
55
[˚]
* Technical data for trailer without extensions 600 mm
Standard equipment
Monocoque loading case with profiled sidewalls and reinforced upper edges of the sidewalls
Hydraulic tailgate with automatic pressing system
Grain hatch with lever in a rear wall
Window on the front wall of the loading case
Chassis frame made of rectangular closed profiles made of hight strength steel
Tandem suspenssion with 4 parabolic springs, 1500 mm wheelbase with fixed axles equipped in drum brakes 406×120
Universal sprung drawbar with height adjustment to couple with lower or upper hitch of the tractor
Drawbar hitch: rotary with Ø50 towing eye
Drawbar support: telescopic with 2-section gear
Braking system: double line air or  single line air or hydraulic
Crank hand brake
Rear underrun protection, foldable
Metal shields over wheels
Wheel chocks + racks (2 pcs)
12 V lighting system (bulbs) with rear electric sockets
Rear lamps with protective grating
Tipping system: hydrauilc with automatic cut-off valve and thick safety steel cables
Service support of the loading case
Coloured hydraulic wires
Foldable ladder and steps facilitating the access to the loading case
Double-component chemically hardened painting materials, UV-resistant
Tipping frame painting colour: red RAL3000 PRONAR
Loading case painting colour: green RAL 6010 PRONAR
Additional equipment (optional)
Drawbar hitch: fixed with Ø40mm towing eye to couple with upper hitch of the tractor
Drawbar hitch: fixed ball-type K80mm  to couple with lower hitch of the tractor
Sidewall extensions height 600mm made of steel 2mm thickness ( increases load volume by 9,1 m3)
Drawbar support: hydraulic straight with cut-off valve
Drawbar support: hydraulic folded leg with cut-off valve
LED lights
Braking system: double line air with (ALB)
Rear grain chute:
Tyres 445/65R22.5
Tyres 550/60-22.5
Tyres 560/60R22.5
Tyres 600/50R22.5 – width of the trailer exceeds 2550mm
Tyres 600/55-22.5 – width of the trailer exceeds 2550mm
Tyres 620/50R22.5 – width of the trailer exceeds 2550mm
Tyres 650/50R22.5 – width of the trailer exceeds 2550mm
spare wheel 385/65R22,5 REG. (separately)
spare wheel 445/65R22,5 (separately)
spare wheel 550/60-22,5  (separately)
spare wheel 560/60R22,5  (separately)
spare wheel 600/50R22,5  (separately)
spare wheel 600/55-22,5  (separately)
spare wheel 620/50R22,5  (separately)
spare wheel 650/50R22,5  (separately)
Non-standard painting colours*
* doesn't aply fo units on stock