PRONAR round bale grapple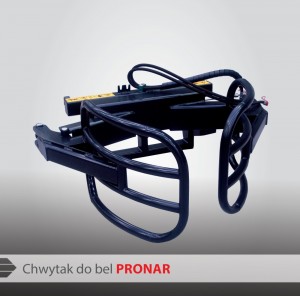 PRONAR round bale grapple 35CB / 35CB1 / 35CB2 are used during harvesting grass and straw for loading and unloading round bales in particular for downloading from storage, loading on means of transport, handling from place to place and transport for short distances cylindrical-shaped bales. The bale grapple can be aggregated on a front loader with quick- concoction Euro-type or LC-1650 or Euro-SMS. Round Bale grapple consists of a frame to which are attached the arms (right and left). The movement of the arms of the gripper is carried out by means of a hydraulic cylinder placed inside the frame.
Construction of round bale grapple design protects against damage.

has fastening system EURO or LC-1650 or Euro-SMS.

can cooperate with other manufacturers Front loaders.

Wide range of applications by working with different diameters of cylindrical bales.

Guaranteed thanks to quality workmanship.
Bale diameter
<1,2
m
Width when opened
2,27
m
Width when closed
1,56
m
Height
0,67
m
Length
1,37
m
Nominal pressure
18,5
MPa
Weight
235
kg
Mounting
EURO / LC-1650 / SMS