PRONAR BIG BAG sling ZB10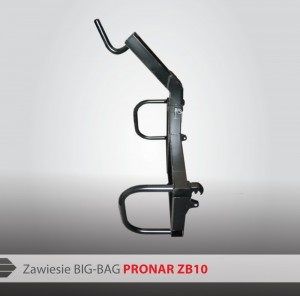 PRONAR BIG BAG sling ZB10 is very helpful in the transport of bulky bags, including the food for animals on the farm or blanks in factories. It is designed to aggregate the company Pronar frontloaders (LC2, LC3, LC4 and LC5). It can also work with attached other manufacturers, equipped with Euro-mount. Allows quick and easy work, and raise the level of security.
1

POSSIBILITY OF VARIOUS APPLICATIONS

For use in agriculture, construction and for industrial processes.

Strong and durable design ensures the safety of the device during operation.

3

COMPATIBLE with other frontloaders manufactures

Thanks to the euro-mount.
| | | |
| --- | --- | --- |
| Fixing | front loader system EURO | |
| mass | 70 | kg |
| Capacity | 1000 | kg |
| The amount of coupling | 1260-1560 | mm |
| (adjustable every 100mm) | | |
| Dimensions (L. X W x H). | 0.6 x 1.1 x 1.2 | m |