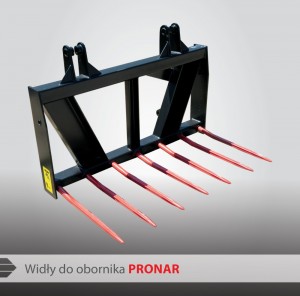 Pronar offering currently three type manure fork 1.2, 1.4, 1.9 with grapple with crocodile-type grip system. Manure fork with grapple CO-12E, 35CO, 35CO serve not only the loading of manure, but also can be used for loading compost or mulch. In particular, they are used to retrieve the material from storage or retention, loading on means of transport, handling from place to place and transport for short distances. They can be aggregated with the loaders with Euro-type fastening system.
Wide range of applications by working with different types of transported material.

Thanks to the screw teeth possibility of quick replacement of damaged teeth,simple and easy to use, has fastening system EURO 

Can cooperate with other manufacturers Front loaders.

Powder paint coating applied.
PRONAR 35WO1 / 35WO2 (1,4 m width)
PRONAR 35WO / 35WO3 (1,9 m width)
PRONAR WO-12E
Width
1,34
1,84
1,16
m
Height
0,85
0,85
0,68
m
Depth
0,94
0,94
0,83
m
Weight
125
165
102
kg
Number of tines
7
9
7
pcs
Fastening
EURO (35WO2) or LC-1650 (35WO1) type