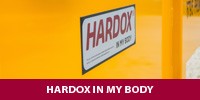 Pronar joined the program Hardox In My Body (HIMB) by SSAB. In Poland, Pronar is a leader in the production and sale of agricultural equipment, agricultural trailers, modern recycling and municipal machines. The company has 7 factories and employs over 2.2 thousand employees. In addition to finished products, they produce elements of pneumatics and hydraulics, steel sideboards, axles, drivelines as well as disc wheels for low-speed machines (third place in the world).
Certification in Hardox In My Body
program confirms the high quality of products made using hard-wearing Hardox sheet metal made by SSAB – a highly-specialized global steel company which develops high-strength steels and provides services for better performance and sustainability.
Pronar has been cooperating with SSAB for over a dozen years, using the offer of special steels from Swedish smelters. Hardox wear plates found their application in PRONAR trailers. The use of Hardox steel in the floor and sideboards of the T679 and T701 trailer allowed to increase the durability of machines, as well as increase their load capacity due to the lower weight. Stickers Hardox in My Body placed from now on the above-mentioned trailers will confirm that they were made using the original Hardox sheet produced by SSAB. For end customers, it is a guarantee of high-quality products.
Participation in the HIMB program means for SSAB partners additional support, the possibility of implementing joint development projects and priority access to technical assistance. SSAB offers technical training tailored to the customer's needs. In the case of PRONAR, a company with its own Research and Development Center, it creates a wide range of joint work on projects of new, innovative structures based on high strength steels and abrasion resistance.