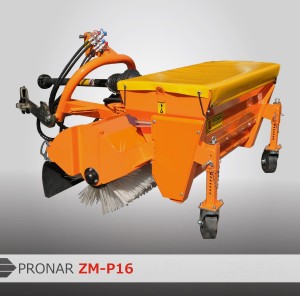 Sweeper PRONAR ZM-P16  is an excellent tool for both winter and summer maintenance of Road, plazas and avenues. An innovative designer has combined the ability to remove dust In the summer, and after using a special brush and attaching the additional sand spreader, to clean and to put a layer of sand and salt on walkways in cities. The ZM-P16 sweeper is designed to work with PTO drive (min. 15kW) or may be powered by hydraulics (min. 40l/min)
Designed to operate both In winter and summer.

All functions are operated via a panel in driver's cab.

May be mounted on both front and rear Tractor 3pt hitch.

Made of high quality materials.

One machine can do the work of two ( sweeper and spreader combinjed into 1 tool).
Mounting
3pt hitch cat I / II
Main brush drive
hydraulic or PTO
Spreading module drive
hydraulic from carrier
Working width (horizontal setting)
1600
mm
Working width (max. turn)
1400
mm
Spreading width
1000
mm
Recommended brush speed
150-350
rpm
Spreading efficiency
450-1800
kg/h
Working speed (seeping)
<10
km/h
PTO speed requirement
540
rpm
Spreader load capacity
450
kg
Weight (sweeper only)
240
kg
Weight with spreading module
415
kg
Sprinkler system
PTO drive
Hydraulic turning
Without spreading module