Rotary rake Pronar ZKP460T
Rotary rake Pronar ZKP460T is the latest model in the range of rotary rakes. Thanks to its robust construction and transmission of tangentially-set rotor arms, lubricated in an oil bath, characterized by high resistance, ZKP460T provides reliable performance in all operating conditions, regardless of the swath type. High quality materials used to manufacture rotary rake Pronar ZKP460T guarantee its long-term use. Simple design of rotary rakes ZKP460T makes operation easy, and the dimensions of the rakes are the ideal solution for small farms, which have a low-power tractors.
Rotary rake Pronar ZKP460T – features: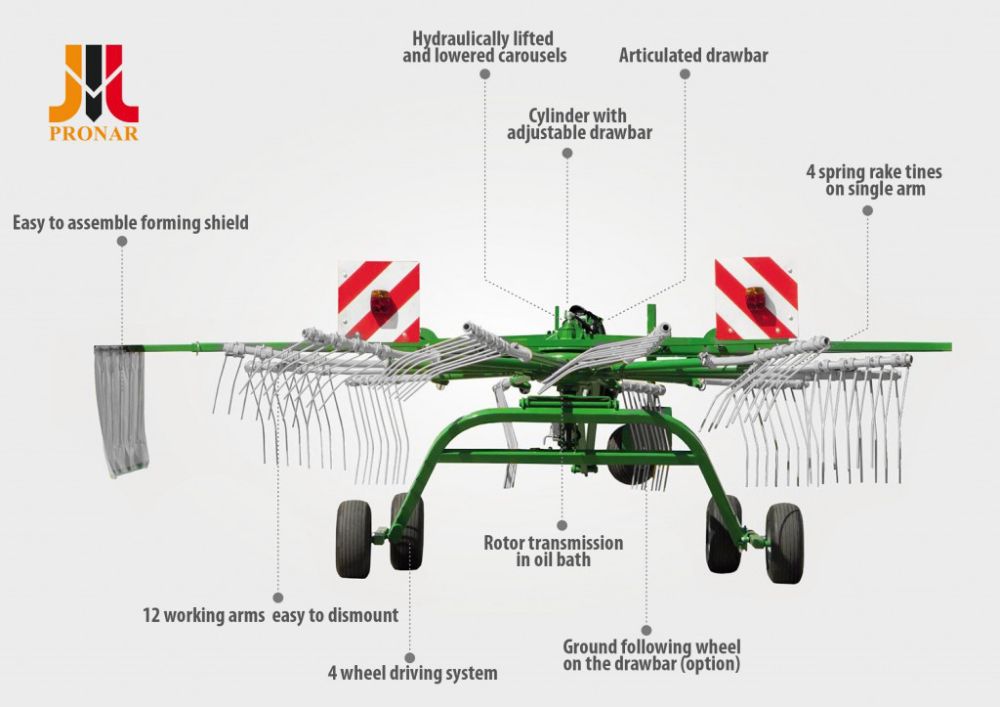 REGULATION OF DRAWBAR CYLINDER

Drawbar cylinder is equipped with crank regulation, which ensures proper height adjustment and inclination of a carousel. Aggregation to a tractor is possible with parallelogram drawbar which keeps hitch in constant vertical position.

Rake is connected to the tractor by the drawbar. This design ensures that rake in the work setting and the transport setting is parallel to the ground.

WHEEL SUPPORT ( optional)

Ensures accurate raking and ground following ability.

HYDRAULIC HEIGHT REGULATION OF CAROUSEL

Two cylinders mounted on frame and on drawbar rake, provide easy change from transport setting to working setting and efficient maneuvering over swath. Lifting and lowering of the machine to adjusted depth is possible due to usage of hydraulic system. Basic working depth is adjusted by a bolt on the chassis rake. In order to ensure always optimal alignment tines to the ground, there is a possibility of making additional inclination of the rotor relative to the chassis.

Positioning of wheels in rakes is designed to work maximally close to the tines. It is ideal solution which will guarantee perfect ground following ability and will secure forage against soil pollution.

HERMETIC AND LUBRICATED GEAR

Proper raking is provided by 12-arm gearbox and its special design. Thanks to it the work of rakes, even with heavy usage is continuous and will not create problems for farmer. The gearbox is characterized by durability, reliability, sealing and lubrication system: oil bath with a tangentially-set rotor arms. This ensures maximum safety of gear wheels and usage is reduced to minimum.

12 EASY TO DISMOUNT WORKING ARMS.

Arms of the carousel can be dismounted in easy and fast way, which reduce width of rake, for example when it is transported between fields. Usage of 12 arms on carousel, creates possibility to swatch with higher speed, but with retain same speed of carousel rotation.

EASY TO ASSEMBLE FORMING SHIELD

Construction of forming shield is easy to lifting and lowering. There is no need for additional force usage.

4 SPRING TINES ON SINGLE ARM

Raking spring tines are made of very durable 9,5 mm wire steel, which correspond with long lasting usage. Optimal tines fit to the ground, ensure that swat is raked evenly. It is damage free and and protects the turf.
Length in working/transport position
5480 / 4510
mm
Working width
mm
minimum
4175
maximum
4925
Transport position width
2360
mm
Height in working/transport position
1240 / 2700
mm
Working width
4600
mm
Number of raking tines on one arm
12
pcs.
Number of raking tines on one arm
4
pcs.
Suspension
drawbar connected to the lower transport beam of the tractor
–
Traction system
four wheels in tandem arrangement
–
Type of central gear
wet (oil bath)
–
The overload protection
clutch 1000 Nm
–
Power requirement
22/30
kW/HP
PTO speed
540
rpm
Weight
680
kg
Recommended moving speed
10
km/h
Working efficiency
5
ha/h
Tyres
16×6.5-8 (6PR)
–
Pressure in tyres
200
kPa
Electric system
12
V
Required hydraulic outputs
one-sided single section in floating position
PTO shaft
Standard
Additional equipment:
Ground following wheel