Double rotary rake PRONAR ZKP690
The PRONAR ZKP690 rake which lays a central swath is a machine especially recommended for those who are looking for efficient solutions. PRONAR ZKP690 a machine with a simple structure that can be aggregated with most tractors on the market.
The possibility of accurate ground following is one of the most important rake task. PRONAR ZKP690 rake is equipped with a swinging carousel suspension, thanks to which it adapts perfectly to the ground, which improves raking efficiency. Thanks to the adjustment, it is also possible to adjust the working width to suit your needs.
Rotary rake Pronar ZKP690 – features: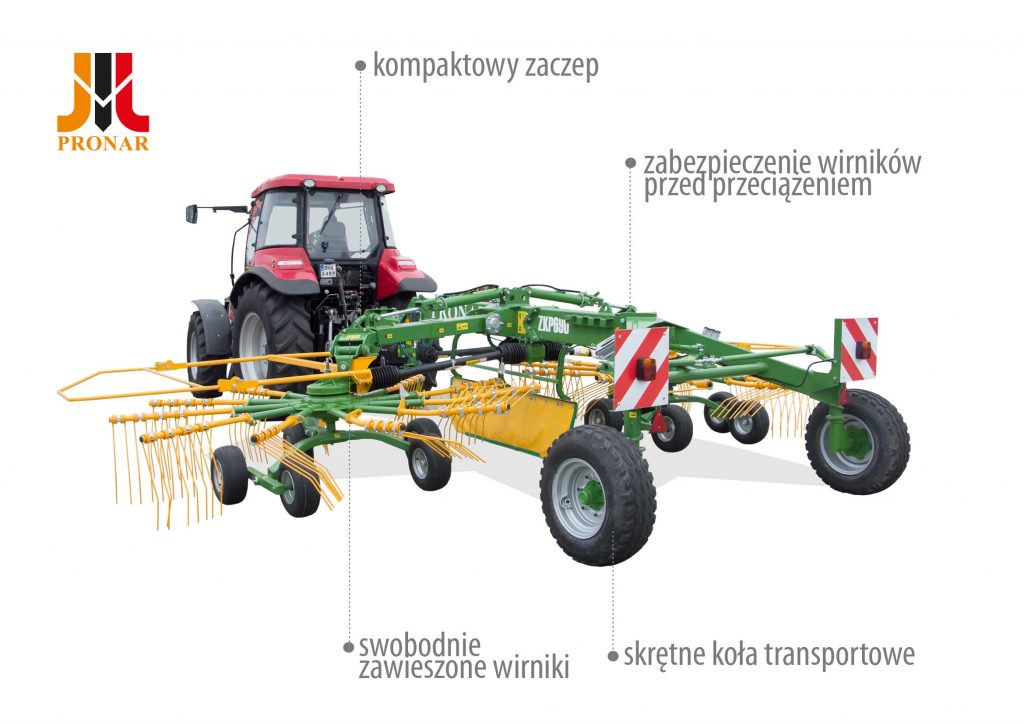 Solid construction, easy operation

Thanks to the solid construction, it ensures trouble-free operation even in difficult conditions. In addition, simple operation allows you to quickly set the desired operating parameters.

Torsion hitch with tie rod for controlling transport wheels.

High maneuverability thanks to swivel transport wheel

Rear (transport) wheels actively steered facilitate maneuvering the machine.

Working width as required

The width can be customized thanks to manual adjustment, hydraulic adjustment is available as an option.

Freely suspended rotors adapt to uneven ground

Carousels are connected with the frame by means of a cross (swinging) suspension system adjusts to the unevenness of the ground and perfect ground following.

Rotor protection against overload

The rotors are protected by a shaft with a 900Nm overload friction clutch.

Free transmission gear operation in an oil bath

The gears are lubricated in an oil bath, which reduces the wear of gears with maximum protection.

Forming an even and breathable swath

Thanks to the solutions used in the working system, it is possible to form a precise and breathable swath.
Overall length in working position
5400
mm
Overall length in transport position
5400
mm
Working width
minimum
maximum
6970
7670
mm
Width in transport position
2800
mm
Height in working position
1450
mm
Height in transport position
– rakes removed
– rakes inserted
3450
4100
mm
Working width
6440-7140
mm
Distance between carousels
350-1050
mm
Number of carousels
2
pcs.
The number of working arms of one carousel
11
pcs.
Number of raking tines on the working arm
4
pcs.
Suspension system
cat. I i II wg ISO 730-1
Drive system of the drawbar
Two wheels actively steered
Drive system of the rotors
five swivel wheels
Type of carousel gears
wet (in oil bath)
WPT overload protection
Single direction and overload protecting clutch 900Nm
Minimal tractor power requirement
51/70
kW/HP
PTO rotational speed
540
rpm
Weight
1840
kg
Recommended working speed
10
km/h
Tire size:
– drive system
– rotor wheels
10.0/75-15.3
16×6.5-8(6PR)
Tire pressure:
– drive system
– rotor wheels
400
160
kPa
Electrical system voltage
12
V
Required hydraulic outputs of the tractor
1 section with floating position
Rake width adjustment
manual
Raising the rotors to transport position
hydraulic – synchronized
Tires 340/55-16
Hydraulically adjustable working width
Protecting raking tines from being lost
Document tube