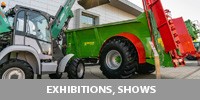 The International Fair of Agricultural Technology TECHAGRO took place on 8-12 April at Brno exhibition centre. Pronar machines were presented on more than 400 square meters in collaboration with Czech partner STROM. This leading event of this kind in Central Europe was visited by over 110,000 visitors.
The biggest premiere on TECHAGRO in Brno was manure spreader – PRONAR NV161/4. It was first presentation of this model in Czech Republic. NV161/4 construction is strong and durable. It was designed for precise and even spreading – not only manure, but also peat and compost. The load box has 13 m3 capacity. Thanks to big wheels this manure spreader works great on soft terrain.
Apart from NV161/4 on Pronar booth were also present some of Czech bestsellers including trailers T671 (single axle), T669/1, T700M, T902 (tandem axle), T026KM, T025 (for bales transportation), T046 (for animal transportation) and T185 (hook lift). Visitors could also see Pronar bale wrapper – Z245.

TECHAGRO fair were perfect opportunity for Czech customers to buy new machines thanks to special financing offers prepared by Pronar and Czech partner. They were available for everybody who visited Pronar booth or dealer.
Total area of the booth, number of presented machines and huge crowds clearly show that company from Narew has very good reputation in Czech Republic. This is another country outside of Poland, where Pronar products gain such attention.