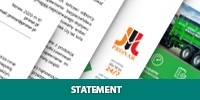 Dear Sir or Madam / Dear Partners
We are aware that the news and rumours about the probable lockdown in Poland can be disturbing. We would like to inform you that there is no risk of stopping deliveries of the ordered machinery, components or spare parts. We are going to work along with our schedule, even despite the difficulties.
As the producer of machinery and components we are aware of the fact that our clients represent the industries that cannot stop working. Providing the safety of food production; continuity of municipal services and recycling services need the constant deliveries of machinery. We also feel responsible for delivering pneumatics and hydraulics elements, side profiles and wheels.
We would like to ensure you that all of our factories work continuously and there are no problems with production continuity. Thanks to the stock of steel we will be able to continue our production even if the commodity markets encounter problems. We have adopted the security measures in order to protect our employees.
We are constantly improving and increasing the portfolio of our products so we encourage you to take a look at our newest catalogues. Our sales representatives are at your disposal if you need any information about Pronar's offer.
Pronar Sp. z o.o.