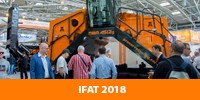 Five days, thousands of visitors, many orders – this is how Pronar can sum up the biggest recycling trade fair in Munich – IFAT.
On over 200-square meters booth, right in the middle of exhibition halls, Pronar showed three machines. Single shaft slow-speed shredder PRONAR MRW 1.300 had its premiere on IFAT. It is the first machine of this type in Pronar slow-speed shredders model range. Next international premiere was windrow turner PRONAR MBA 4512g. Third machine was well known and praised slow-speed shredder PRONAR MRW 2.85g. With help of our sales representatives everyone could see what is inside machines and get every information they wanted.
Pronar's booth was well received by visitors from almost every part of the world. They could see whole range of recycling machines thanks to 3D printed models. With QR-codes right next to them, learning technical data, watching movies or photos was very easy. Thanks to innovative interactive touch displays set in front of every machine useful information were literally at clients fingertips.
Pronar has once again shown that it is important player on the market with great products. This was confirmed not only by kind words from our customers, but also by orders collected within five days of IFAT. It fills with optimism and motivates us to continue on improving. The next IFAT trade fair will be held on 4-8.05.2020. We hope it will as successful for Pronar as one that has just been completed.