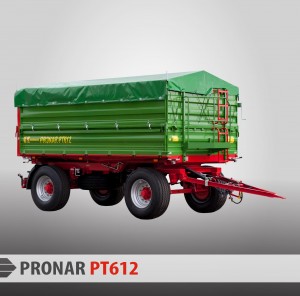 Trailer  PT612 cargo box was made with strong and durable flooring panels, profiled walls are locked central. The trailer is equipped with a tree side tipping mechanism. The damper in the rear wall allows easy unloading of raw materials, agricultural materials or construction materials (eg. Sand). The distance between the platform and the ground (between 1142 mm and 1270 mm), make the loading easier. The construction of the chassis frame is based on hollow sections, which gives the construction durability. Design trailer speed  is 40km / h, with pneumatic or hydraulic brakes. The suspension, axles, leaf springs and special lighting has been designed to meet the requirements of higher speeds. For the production of the trailer high-quality materials are used, such as modern two-component coatings. Transport using a two-axle trailer is popular both in agriculture and in the municipal services.
Inner width of the loading case (2.42 m), which allows transporting  of bulk materials and typical loading euro pallets.

Thanks to widely spaced wheels.

Frame made of torsion-resistant hollow sections.

Standard on this trailer are wheel chocks, rear wheel fenders, ladders and a gradual drop-side for easy access to the cargo box, rear electric sockets, hydraulic and pneumatic and security grilles at the rear beam lamps.
Technical data*
Allowable total weight (technically):
17000
[kg]
Permissible total weight:
16300
[kg]
Load capacity:
12000
[kg]
Empty weight:
4200
[kg]
Load volume:
15.4
[m 3]
Loading space:
11
[m 2]
Loading case inside lenght:
4545
[mm]
Loading case inside width:
2420**
[mm]
Dimensions: length/width/height:
6720/2550/2720
[mm]
Sidewall height:
600+800 (option)
[mm]
Floor/wall thickness:
5/2.5
[mm]
Platform height, measured from the ground:
1270
[mm]
Wheel track:
1900
[mm]
Suspension:
parabolic springs
Tyres:
 385/65 R22.5  RE
Maximum speed:
40
[km/h]
Tipping system:
3-side
Tipping cylinder (piston stroke/oil requirement/working pressure):
1980/18L/200bar
Tractor power requirement:
89/65.7
[hp/kW]
Tipping angle (backwards/sides):
50/46
[˚]
* technical data for side walls and extensions 600+800mm
** width of the loading case suitable for EUROPALET transport
Standard equipment
Loading case with universal system of sidewalls opening
Reinforced floor pan with walls central locking system
Chassis frame made of rectangular closed profiles
Drawbar V type: rigid with Ø40 towing eye
Rotating Turnable
Braking system: single line air or double line air or hydraulic
Axles 60 km/h
Parking brake with crank
12 V lighting system with rear electric socket
Coiled connecting cable lighting system
Rear lamps with protective grating
Rear manual hitch, amortized
Rear conections to a second trailer
Tipping system with cut-off valve
Three side tipping cylinder
Side walls made of PRONAR profiles 600mm  with rim 60mm
Rear mudguards
Rear grain hatch with a lever in a rear wall
Wheel chocks + racks (2 pcs)
Ladder and steps facilitating the access to the Loading case
Double-component chemically hardened painting materials, UV-resistant
Tension bar of the sidewalls
Chassis color red RAL3000 PRONAR
Sidewalls color green RAL6010 PRONAR
Loading case adapted to transport europallets
Additional equipment (optional)
Drawbar: V type with Ø50 fixed towing eye
Drawbar: Y type with Ø40 fixed towing eye
Braking system: double line air with ALB (automatic braking force control)
Operator's platform
Sidewalls extension made of profile PF 800mm (with tension bar of the extension)
Tension bars along the sidewalls /extensions ( not available in standard sidewalls & extensions)
Middle sidewall extension made of profile PF 600mm
Sidewall made of profile PF800 mm made of laser welded profiles
Rear grain chute
Tyres 385/55 R22.5
Tyres 385/55 R22.5 RE
Tyres 385/65 R22.5
Rear automatic hitch UNIMAR
Rear automatic hitch  RO*400A4600
Spare wheel (separately) 385/55 R22.5 RE
Spare wheel (separately) 385/55 R22.5
Spare wheel (separately) 385/65 R22.5  RE
Spare wheel (separately) 385/65 R22.5
Front mudguards
Additional rear plastic mudguards
Tool box
Side underrun protections
Springs facilitating opening the sides
Warning triangle
Auger for unloading grain with efficiency of 30 t/h ***
Crank operated spare wheel winch under the frame of the trailer
Rear grain chute across width of the trailer
Foldable left or right chute along the entire length of the loading case
Foldable left and right chute along the entire length of the loading case
Rolled cover with frame with demountable central pipe and lateral supporting pipes
Window in the front side wall extension (340×710) with grating and PLEXI
Window in the front extension and in the front of the middle side wall extension (340×710) with grating and PLEXI
Two grain hatches with a lever in a rear wall with locking system
Three grain hatches with a lever in a rear wall with locking system
Hydraulic support of unlocking side walls on the left or right side
Hydraulic unlocking side walls on the left and right side
Set of wall supports to maintain the walls in a partially open position for bale transportation****
Shock absorber for falling potatoes – two sets of rubber belts, 1,8m of length each, mounted on the sidewall extensions (side extensions necessaary)
Non standard colours according to RAL CALSSIC codes
*** mounted on the rear wall, two-segmented, folded, with mechanical winch, auger driven hydraulically, oil requirement 30L/min
**** for agricultural roads only