Towed sand spreader Pronar KCT07 is perfectly suited for winter maintenance of roads and sidewalks in small towns and villages. It can be used wherever large salting machine cannot be used. The machine construction with a drawbar with max. 250kg pressure on the coupling allows for using the spreader with small tractors. Spreader PRONAR KCT07 can also be towed using the lower tractor beam. Small dimensions and a total weight of less than 1.5 t allow the machine to operate with small, reversible tractors and use it even on sidewalks.
Spreader PRONAR KCT07 – features: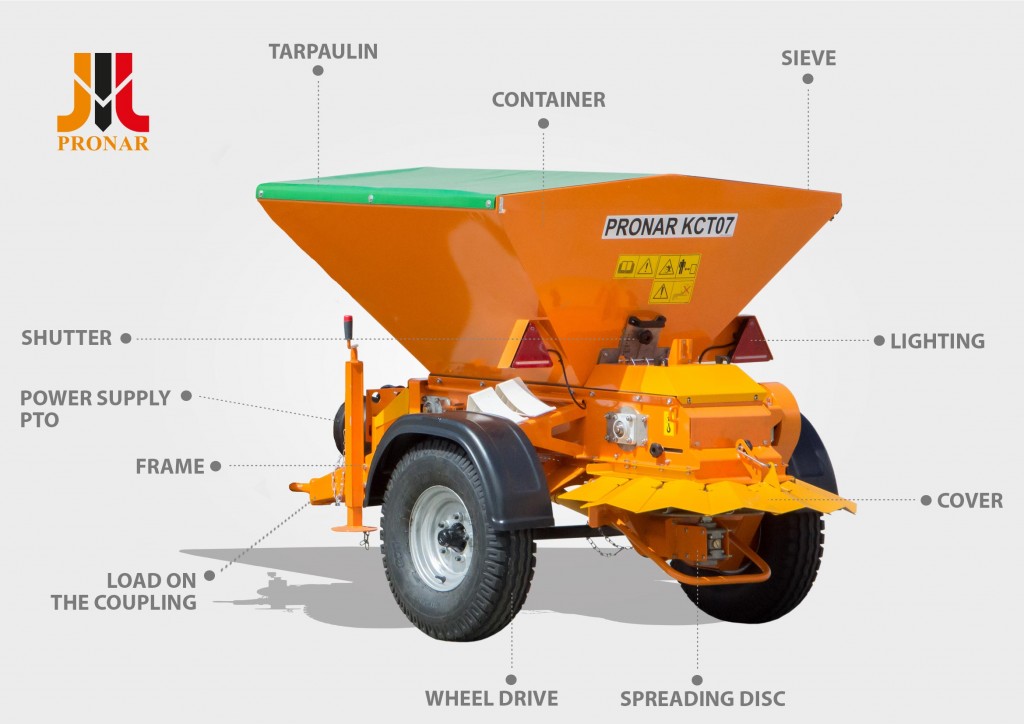 The tank, with a capacity of 0.7m3 for sand and salt can be made of stainless steel or galvanized steel. Additional anti-corrosion protection is provided by two-component painting with chemically-hardened paints.

Additional grate over the tank for breaking up the input material

The strong plastic tarpaulin protects the material in the tray from rain and snow.

Road lighting allows you to move on public roads.

Spreader PRONAR KCT07 is equipped with a stainless spreading system powered by hydraulics or an angle gearbox from tractor's PTO. The second option allows you to aggregate the machine to the simplest tractors without an external hydraulic system.

The spreading width is determined by the engine rpms and by means of disc shields, which also limit the scattering.

The spreading material is fed to the spreading disc using a belt driven from the spreader wheel. Thanks to this solution, the spreader does not spread material during standstill and the constant amount is maintained regardless of the speed.

max. load on the tractor coupling is 250kg.

Painted frame is made of stainless- or hot-dip galvanized steel , resistant to corrosion and negative influence of atmospheric factors.

Determines the amount of material fed to the spreading disc.

Powered from the PTO allows aggregation of the spreader to tractors without external
hydraulic installation.
Zapisz
Hopper capacity
1135
kg
Hopper volume
0,7
m3
Spreading width
1,5 – 4
m
Attachment method
lower transport hitch
Width
1420
mm
Min. Power requirement
20
HP
Working speed
15
km/h
Recommended PTO speed
300
obr/min
Max. Working pressure
20
MPa
Oil flow
16-50
l/min
Electronic power supply (control panel in driver's cab)
12
V
Spreading ammount (salt)
216
g/m2
Spreading ammount (sand)
265
g/m2
Spreading ammount regulation
stepless, independent of driving speed
Weight
345
kg
Spreading disc hydraulic drive
Joint-telescopic shaft 510-810 mm
Joint-telescopic shaft 460-710 mm
Stainless-steel hopper
Stainless steel frame