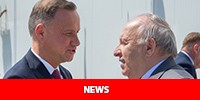 President of Poland Andrzej Duda  visited Pronar Exhibition Centre in Siemiatyczne on Tuesday (o8.06). After getting acquainted with this huge and unique on European scale factory exhibition, he did not hide his words of appreciation for the pace of company's development. Being the largest domestic producer of agriculture, recycling and municipal machinery for many years, Pronar was indicated by the President as a proof that 'a Pole can' succeed in the global market, competing with the largest players in their industries.
Due to the still prevailing restrictions and security reasons, it was a private event. President Andrzej Duda was accompanied during the visit by his cabinet chief Paweł Szrot and two secretaries of state: Adam Kwiatkowski and Wojciech Kolarski. Marshal of Podlaskie Voivodship- Artur Kosicki, Voivod of Podlasie- Bogdan Paszkowki and Starost of Siemiatycze- Marek Bobel, were also all present. The guests were welcomed by Sergiusz Martyniuk, president of Pronar and the initiator of the creation of this huge factory exhibition on European scale at least.
–Pronar was and is a company build solely on the basis of Polish capital- emphasized Sergiusz Martyniuk, chairman of the Board of Pronar Owners.– This investment is the next stage of our development, because so far we have been exhibiting our machines on the biggest world fairs, for which we paid millions of zlotys. And this was money that stayed abroad. Now this situation is changing. Firstly we invested in aviation infrastructure and aircrafts, and recently we opened this exhibition. Thanks to this, we are becoming a destination for many people and companies interested in our machines.
President Martyniuk showed the guests around the exhibition, which consists of two halls and a multi-hectare exhibition square. Halls- is primarily a demonstration of Pronar's production power in the field of components, especially key elements of machinery, such as pneumatics and hydraulics, which the company produces not only for its own solutions (such as trailers), but also exports to numerous countries.
There are also separate exhibitions for axels and chassis, and a wide range of plastics: from small insulation components to fuel tanks up to 20.000 liters. The second, smaller hall was entirely devoted to disc wheels produced by the company,  in the production of which- after recent investments- it has become the world's runner-up.

President of Poland and guests were also acquainted with the construction of machines manufactured by Pronar. Among them, municipal machines, such as the shafts of mulchers, blades made of various materials , or brushes used is sweepers. The part devoted to recycling machines includes working elements of screens (drums) and shredders (shafts), engines, and model of stationary waste processing lines developed by Pronar engineers. The exhibition devoted to agricultural machines is 'disassembled' trailer and disc mower, all of whose elements the company produces itself. This includes steel side profiles, with which Pronar supplies nearly 90% of the Polish market. There were also presented several models of forklifts created in cooperation with foreign partner.
Technology and components were followed by a visit to all the machines manufactured by Pronar that are displayed on a 10-hectare site. Such a vast space was divided into sectors corresponding to the company's product families: from more than 130 models of trailers of various designs and purposes, through agricultural and municipal machinery, to the latest recycling solutions: shredders, screens, belt conveyors and channel balers.
For convenience, the host and guests moved around the square in electric vehicles. Visitors, including the president, not only looked at some of the machines with curiosity but also often asked about details of operation and purpose.
After a brief meeting in a narrow group, the President of Poland took the floor during the speech, in which he not only appreciated the 'galloping' pace of Pronar development but also set the company as an example of global success of Polish capital and technical thought.
–Today Pronar is one of the largest companies in the country- said President Andrzej Duda.– Employing almost three thousand people, it also plays a huge role in the community in the entire region. I'm very happy that there are huge development plans here, that the company approaches it very ambitiously. I also want to emphasize that this Polish company is one of the world's leader in its industries. I wish the whole region could develop as fast as Pronar has.