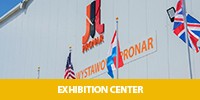 With concern for domestic and international customers, Pronar has opened an Exhibition Center in Siemiatycze. On 10 hectares and in two halls, the company shows all agricultural, municipal and recycling machines manufactured in 8 Pronar plants and already operating in more than 70 countries on six continents. In addition to seeing the machines, everyone interested in Pronar products exhibited in this modern center could also experience the way they operate.
A leader-like opening
Due to the epidemic situation in the country, the opening ceremony of the Center was closed to the public. It was attended by representatives of state and local authorities: Deputy Prime Minister Jarosław Gowin, Marshal of Podlaskie Voivodeship Artur Kosicki, together with Vice-Marshals Marek Olbrys and Stanisław Derehajła, as well as Podlaskie Voivode Bogdan Paszkowski and Siemiatycze Starost Marek Bobel. The scientific circles were represented, among others, by Dr. Wojciech Kamieniecki, Director of the National Centre for Research and Development and Prof. Marta Kosior-Kazberuk, Rector of the Bialystok University of Technology.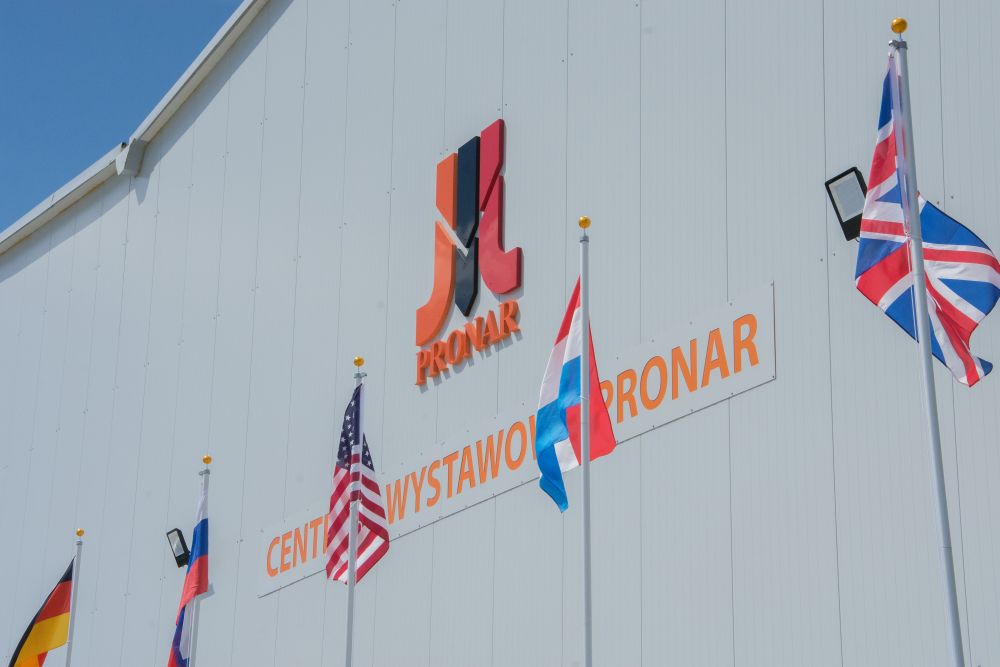 The symbolic opening of the Exhibition Center by cutting the ribbon was performed by Deputy Prime Minister Jarosław Gowin, Marshal Artur Kosicki, Voivode Bogdan Paszkowski, and the host of the ceremony – Sergiusz Martyniuk, President of Pronar, who presented the guests with an innovative idea behind the creation of such a modern project.
"So far, it was us who attended the world's biggest fairs in Hanover, Munich or Paris to show our equipment," said Sergiusz Martyniuk, Chairman of the Board of Pronar Owners, while opening the exhibition. "We paid a great deal of money for it as annual fees reached from 4 to 5 million zlotys. So, we came up with this idea of an innovative approach to exhibiting and promoting our products in Europe and the world; however, it required some very serious preparations. We started a few years back, by building our airport and buying more of our planes to be able to bring to us the customers interested in specific equipment."
In addition to words of appreciation for the project and dynamic company growth, the Deputy Prime Minister emphasized that every time he visits Pronar, these visits are to "brace the hearts."

"Every time I come to Pronar, I leave it full of optimism,"
said Jaroslaw Gowin, Deputy Prime Minister and Minister of Development, Labor and Technology.
"We all have the right to be proud that a company as modern, effective and dynamic in conquering global markets as Pronar was established in Poland. The fact that over the past year we've managed so well with the global crisis due to the pandemic is mainly thanks to Polish entrepreneurs, specifically such outstanding people as President Martyniuk."
The Marshal of Podlasie emphasized the global success of the company whose all factories are located in this voivodship.

"Pronar is a pearl not only on the map of our country but also on the economic map of the entire world,"
said Artur Kosicki, Marshal of Podlaskie Voivodeship.
"The company also proves that you can do good business in Podlaskie and harness the potential of this voivodship."
The Podlasie Voivode also expressed his appreciation for the company and the host of the ceremony.

"I am glad that this company operates in our voivodship, that it has developed thanks to the initiatives of Mr. Martyniuk, who established Pronar in the late 80s,"
said Bogdan Paszkowski, Podlaskie Voivode.
"This is the company that is not afraid of challenges which involve exporting goods to difficult markets, not only in Europe but also to Africa and both Americas. It is also the success of all employees. It is my hope that thanks to such companies Poland will cope well also following the epidemic."
The President and employees of Pronar were honored not only with words of praise. Deputy Prime Minister Gowin, who is also the Minister of Development, Labor and Technology, presented Sergiusz Martyniuk with the Decoration of Honor For Merit to Economic Development of the Republic of Poland. This is the highest ministerial decoration awarded to people and institutions making a significant contribution to the economic development of the country. Several Pronar employees were honored with medals (gold, silver and bronze) for long service and awarded with the "Meritorious for Agriculture" badge of honor.

Exhibitions with dynamic presentations
The PRONAR Exhibition Center is made up of two sections. The first one includes a huge square, where several hundred machines are set up on over 10 hectares, and the second consists of two halls dedicated to technology and components. To make it easier for visitors, the site has been divided into sectors corresponding to the company's product families from more than 130 models of trailers of various design and purpose, through agricultural and municipal machines, to the latest recycling solutions: shredders, sifters, belt conveyors and channel balers. Visitors can take a closer look at the machines to make sure, in detail, they fulfill their everyday work requirements. All according to the tried and tested see-touch-buy principle.
For recycling machines, it will soon also become possible to see them in action. In the nearest future, the PRONAR Exhibition Center will be complemented with a unique element – a testing ground. This is where dynamic demonstrations of waste industry-dedicated equipment will take place. Customers will be able to witness the practical application of Pronar machines combined with various types of material such as organic waste, wood, biomass, paper, plastics, or large-size waste. The training ground is a unique solution in Europe and – aside from attracting potential buyers' attention – it will also be used to train them in operating and making the most of the machines.

In the roofed section of the exhibition dedicated to machines, you can get a closer look at their construction. For municipal machines, you can see e.g., flail mower shafts, blades made of different materials, or brushes used in sweepers. The section devoted to recycling machines includes sifter components (drums) and shredder components (shafts), engines, and a stationary waste processing line model developed by Pronar engineers. In turn, the exhibition devoted to agricultural machinery is a "disassembled into parts" trailer and disc mower with each component manufactured by the company. Pronar will soon be adapting its machines to meet the requirements of the precision farming era.
The indoor section of the exhibition is primarily a demonstration of Pronar's production power in the field of components, especially key machine elements, such as pneumatics and hydraulics which are manufactured by the company not only for its solutions (e.g., trailers) but also for export to a vast number of countries. There are also separate expositions of steel side profiles nearly 90% of which Pronar supplies to the Polish market, and a wide range of plastics, from small insulation components, through fuel tanks with a maximum capacity of 20,000 liters. The second, smaller hall is devoted to axles and chassis, where guests can also see powerful crawler systems installed on recycling machines and disc wheels which are the true pride of Pronar – the company is now the world's second-largest manufacturer.
However, the Pronar would not have become such a manufacturing powerhouse had it not been for the tool room responsible for developing instruments and optimum manufacturing process technology, and the extensive research and development facilities with Research and Development Centre on top of it. At its stand, it shows how specific research translates into the ever-increasing quality of components and machines. The Technical Support Department and the After-Sales Service Center have also found their place in the larger hall. Today, the effectiveness of these organizational units is becoming at least as important as the production of the machines themselves.

The Exhibition Center opening ceremony also included a presentation of the main prize in the "If It's a Trailer, It's Pronar" contest. President Sergiusz Martyniuk, Marshal Artur Kosicki and Marcin Nowotka, Director of Trade and Marketing of Pronar presented it to Mr. Robert Kawęcki from Strzakły (Lublin Voivodeship). The PT606 farming trailer worth over PLN 50,000 with additional equipment will be used in his ecological poultry breeding farm.
Pronar's huge factory exhibition will be permanent and, like any other project, it will develop over time. Aside from the fact that the company has its airport and fleet, Siemiatycze's location near the Via Carpatia trans-European route, which is already partially underway, is undoubted facilitation.