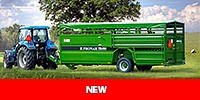 Pronar has just started mass production of a new cattle trailer. T046H is our fourth cattle trailer. The construction combines high loading capacity with manoeuvrability. The cattle is safe during transportation and can be easily loaded and unloaded.
The new construction was created in consultation with the end users from Poland, Germany and Austria. The first public launch of the product took place last year at Agritechnica fairs in Hannover. It was a great opportunity to hear out any suggestions of our clients. Complex testing of the prototype made it possible to improve the construction and to start the mass production.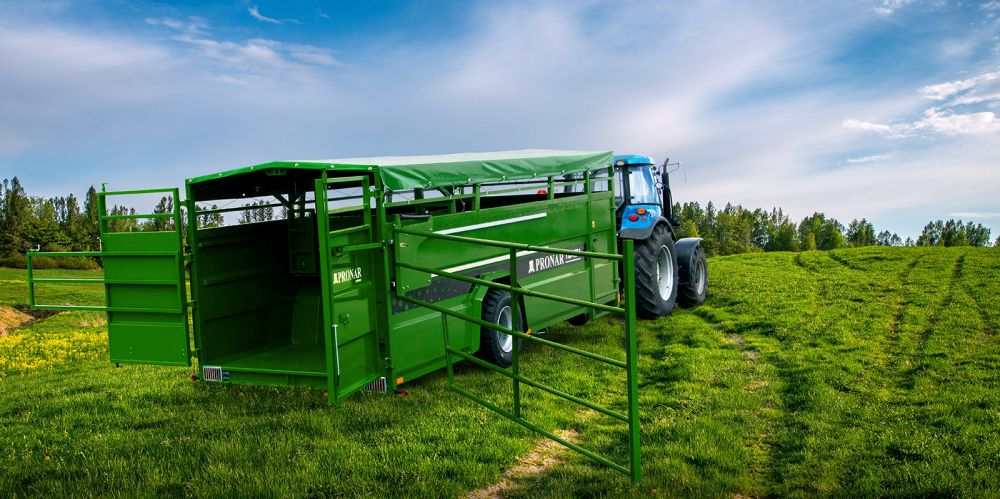 The technical data show the idea of the engineers involved in the construction process- providing high loading capacity and keeping manoeuvrability. Eight tons of loading capacity and eleven tons of permissible total weight allow to transport from 8 to 10 heads of cattle, depending on their size. Applying single axle hydraulic suspension allows to keep the manoeuvrability- even in the difficult, mountainous areas.
Hydraulically lowered body (20 cm from the ground) and standard lightning system makes it easy to load and unload the cattle in every circumstances. Optional, side barriers and inner wall, not only facilitate the process but also increase safety of the transported cattle. The floor is covered withspecial, rubber coating which protects cattle from sliding.

The side walls are 1,5 m high and can be covered with canvas which prevents cattle from sticking out their heads from the loading area. Thanks to the side door, the user has an easy access to the cattle. The hydraulic shock absorber minimalizes any bumps and vibrations while driving, which increases the cattle comfort.
The loading case can be easily cleaned thanks to painted walls and drainage holes. A wide range of additional eqquipment (spare wheel; tool box or additional lamp) makes it easy to customize the trailer to individual needs of the user.