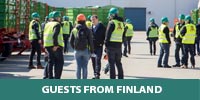 In the last days  Pronar was visited by representation of our Finnish importer. At the same time, our production was also visited  by large-scale farmers from the same country.  Most of these farmers are arleady using our machines. They were all very surprised. Already during their visit, they discussed what they could use in their own farms.
At the same time, the Finns saw which technologies and production processes are used in the company and how does the quality control looks like with all the tests before the production. They have also seen our new machines that will enter in serial production very soon.
After the technical part we managed for them a quick trip to visit the Narew neighborhood and the European bison Show Reserve in Białowieża.