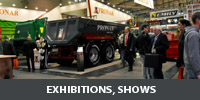 2900 exhibitors from 53 countries came to Hannover between 12th and 18th November for leading fair trade for agricultural machinery Agritechnica 2017. Among them PRONAR – industry leader from Poland with three stands and not only with well known products but also with premieres.
The biggest one was self unloading half-pipe trailer PRONAR T701HP with maximum capacity of 22 m3. Made of very durable Hardox 450 steel can work in very demanding conditions. Shape of this trailer is specially designed to prevent load from sticking to the surface. Raising the whole body is possible thanks to big telescopic cylinder. It takes only 30 seconds to raise it to 55 degrees. Additional comfort for the driver is provided by cushioned drawbar (standard equipment).
Next premiere was modernised manure spreader PRONAR N262/1 with steering axle, toughened flap and valve. PRONAR has also shown hook trailer PRONAR T286 with new, universal container platform. Customers could take a look at our bestseller in Germany – double axle trailer PRONAR T680. Easy to notice were new colours of self loading bale trailer PRONAR TB4 and disc mower PRONAR PDF300C.
Apart from all this machinery, PRONAR has shown wide range of products from Wheels Department, Pneumatics and Hydraulics Department and steel sideboards. Customers were amazed with great production potential of PRONAR factories and huge possibilities for individual customization.
Agritechnica 2017 has once again shown that 100 % polish brand PRONAR is for many clients synonymous to high quality. PRONAR representatives heard this many times while talking to numerous people.