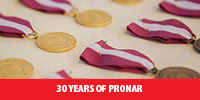 On 28th December 2018, Pronar celebrated its 30-year presence on the market. The company was founded in 1988 by Mr. Sergiusz Martyniuk, Roman Omelianiuk and Jan Czerniakiewicz.  Today Pronar is the undisputed leader, and the brand is recognized all around the world.
30th anniversary is a special anniversary, which was also an opportunity for memories, summaries and, above all, plans and forecasts for the next year.
The Christmas and New Year meeting was held in Narew in the main Headquarter. During the official part, the President of the Board of Owners – Mr. Sergiusz Martyniuk, in his speech, he thanked for help, support, knowledge, enthusiasm and a huge commitment in building the company and its dynamic development for past 30 years. He also mentioned about the huge intellectual capital that the company has as well as its importance in the region.
The culmination of the jubilee celebration was the presentation o medals from the Minister of Agriculture and the President of Poland by the Voivode of Podlasie, Mr. Bohdan Paszkowski.
By the decision of the President of the Republic of Poland, at the request of the Board of Pronar Owners, Golden Medals for the long service in Pronar received: Wiktor Czemerys, Stanisław Kotowicz, Bazyli Świętuchowski, Michał Zacharczuk, silver Medals: Marek Mirończuk, and brown ones: Dorota Nowik, Dominik Juchimiuk, Krzysztof Szubzda.
By the decision of the Minister of Agriculture and Rural Development, at the request of the Podlasie Voivode and the Pronar Owners' Council, the outstanding honorary contribution to the development of Polish agriculture the award received: Jarosław Waskiewicz, Zeon Jeżyk, Anatol Pietruczuk, Cezary Pietraszko, Marek Sejnota, Ireneusz Trusiewicz, Piotr Kiryluk, Alexey Wakulewski, and Krzysztof Jaroslawski.
The awards were given by the Voivode of Podlasie, Mr. Bohdan Paszkowski and the president of Pronar, Mr. Sergiusz Martyniuk.
Our company received thanks from the provincial authorities for its contribution to the development of the region. "Pronar is one of the most important companies in the country" – said the Voivode of Podlasie during the interview. 30 years is the result which undoubtedly deserves recognition.
The constant exploration of new areas of development and investing in advanced technologies allowed the company to reach a very high position in the ranking of machinery manufacturers for agriculture, municipal and recycling, not only on the domestic market but also worldwide.
After the official part of the meeting, all the guests enjoyed the delicacies of Narwia's cuisine and a 30-kilo jubilee cake.