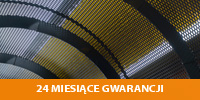 The purchase of professional recycling machines is an investment for years. That is why it is worth to choose proven equipment. According to this rule, Pronar now offers a 24-month warranty on the full range of recycling machines currently available.
The 2-year warranty is offered as a standard in mobile slow-speed shredders, mobile trommel screens and mobile stockpilers. It is a clear sign for the buyer that he gets reliable equipment.
Extended warranty coverage is the result of many years of experience in the production of technologically advanced products, the use of high-quality production machines and well-thought-out planning. Testing at the Research and Development Center is also an important factor. Thanks to this, you can rely on recycling machines from Pronar.
Detailed information is provided by sales representatives.