What kind of manure spreader is the best?
What capacity choose?
This question asks himself every farmer who is looking for the most appropriate machine. Purchase of manure spreader is an investment for many years, so many factors should be taken into consideration before purchase. First of all counts quality, the type of chassis, the quality of used steel, the type of spreading mechanism and the size of the tires.
Pronar, to meet the expectations of customers, introduced new manure spreaders series NV161.
They are strong, effective and durable machines, which main task is precise and uniform spreading of organic fertilizers. The walls and floor of loading box are made of steel with a thickness of 4mm, so that structure is solid and durable. Single-axle chassis used in the manure spreaders makes it easy to maneuver and unburden tractor. All models are equipped with a vertical 2-cylindrical spreading adapter of spreading width up to 12m. Manure spreaders have boxes with a capacity from 8,6 m3 to 14,4 m3, so you can optimally adjust them to the size of the farm. Large wheels diameter used in manure spreaders made the pressure on the ground to minimal, so that furrows are not deep, and the tires respond better to changes on the ground.
The main features of manure spreaders NV161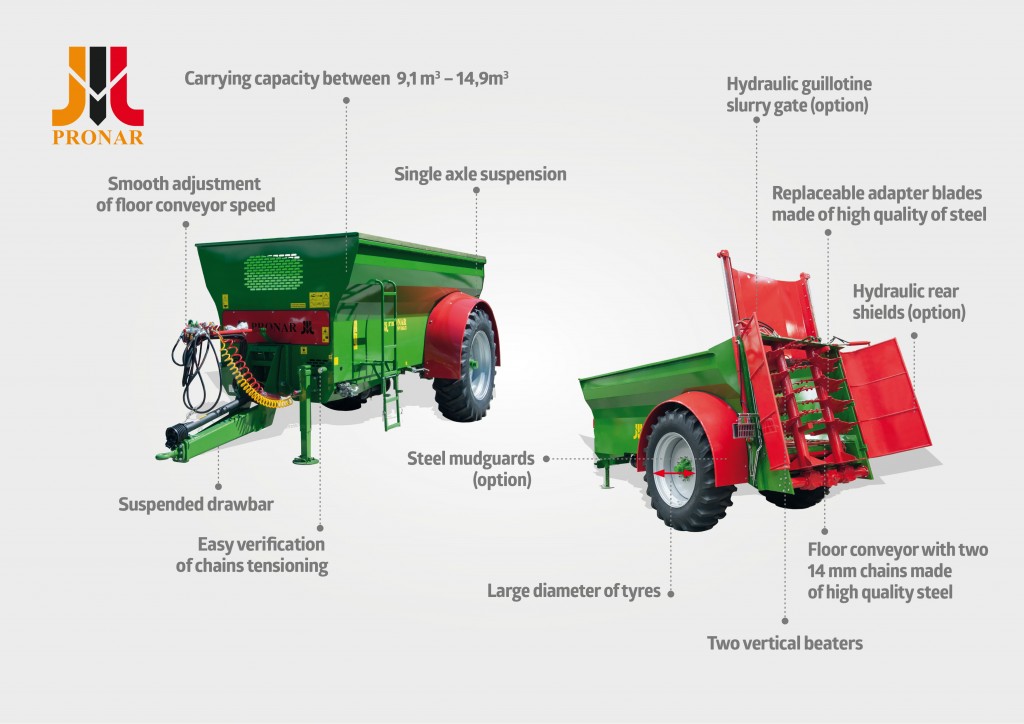 We offer 5 models of manure spreaders NV16, which can be tailored to individual customer needs.
Detailed information and technical parameters of manure spreaders NV161