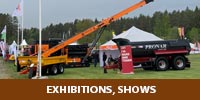 On 23-25 May in the town of Märsta in Sweden, the MaskinExpo 2019 machinery fair was held once again. The event was a great opportunity to check the news in the agricultural, recycling or construction equipment industry. Approximately 300,000 m2 of exhibition space, divided between 221 exhibitors, was waiting for visitors.
Of course, representatives of PRONAR could not miss it. We presented ourselves there with a wide range of products. On our exhibition visitors could see 3 models of snow plows PUV3300, PUV3300M, PUV3600HD, hook lift trailers T185, T286, a dump trailer T701HP and a prototype T679/4M.
At the exhibition, we showed a mobile stockpile MPT18 / 1g and a single-shaft slow-speed shredder MRW1.300. The new dump trailer T679/4M had its premiere.
MaskinExpo 2019 is one of the largest events of this type in the region.
More than 17,000 people come to the event every year. The event was a great opportunity to promote our equipment in Scandinavia and to maintain friendly relations with our dealers.