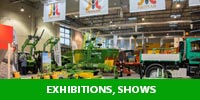 On February 9-10, took place the 15thedition of the most important event of the agricultural sector in north-eastern Poland – Mazurskie Agro Show in Ostróda.
As in previous years, on over 35 thousand m2 of exhibition space, over 200 exhibitors presented their machines and Pronar was one of them.
Pronar machines were exhibited at stand No. 37 in hall 5-6. where visitors could see wide range of products including trailers: PT612, T669/1, T026M, chaser bin T740, manure spreaders N262 / 1, NV 161/3, disc mowers PDF300C and PDT300, tedder PWP770 , ZKP800 rake, Z245 bale wrapper, mixer feeder (DVMP-14). During the fair in Mazurskie Agro Show in Ostróda, Pronar  also presented its municipal offer like sweepers ZMC 3.0 and ZM-2000, multifunction arm WWT 480 rear mounted, cutting head GK 120L,  GT 150, branch trimmer GN 200 scissor head,  mulcher BBK 200M.
The employees of the company were waiting for the visitors at the stand and willingly talked about the presented machines from Pronar large offer. They helped to choose the right model and advised on the best way of financing the purchase.
The main organizer of the Mazurskie Agro Show in Ostróda was the Polish Chamber of Commerce for Agricultural Machines and Equipment.