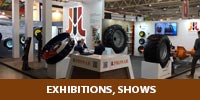 On Sunday (24/02/2019) another  edition of Paris International Agribusiness Show – SIMA 2019-  was launched, which will last until 28/02/2019
This year  PRONAR surprised everyone with its new products.
The new segment  of wheels in sizes  from 6 " up to 10″ has its world premiere at SIMA they are used in machines such as rakes, mowers and many more.
In flagship 22.5 " flotation wheels PRONAR presents the new disc wheels with a higher speed index, i.e. up to 70km/h.
The complete suspension of the "boogie" type is very popular (with UTAC homologation dedicated to the French market).
For the first time the sets of complete wheels with tires from certified producers such as TVS EUROGRIP and Carlstar / Carlisle are also presented by PRONAR.
We invite everyone to visit our stand in hall number 7A, stand number 19 – SIMA 2019

The  Wheel Department has been producing disc wheels for 20 years and it is the 3rd largest producer of low-speed wheels in the world and delivers its  products to more than 90 countries on all continents