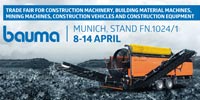 The largest international trade fair for construction and mining machinery and equipment will commence on the 8th of April 2019 in Munich – Bauma.
<style="text-align: justify;">This is an exhibition that brings together the largest producers and distributors of specialized equipment in one place.
Pronar representatives will be able to meet at stand FN.1024 / 1.
Bauma is an extremely important event for the company from Narew. The mobile trommel screen Pronar MPB 20.55 will be presented there. This is one of the bestsellers that provides great performance by offering the possibility of splitting the input material into three fractions.
The presence of Pronar at the Munich Fair is the result of cooperation with two German dealers – Christophel and Kölsch. They are recognized partners who can boast of a very strong position on the market, excellent sales results and comprehensively equipped service facilities.
Bauma is the largest industry event and one of the biggest trade shows in the world.
It takes place every three years. In 2016, the area of 605 thousands of cubic meters. The offer was presented by 3425 exhibitors from 58 countries. For several days, the fair was visited by over 580 thousand people. In 2019, the organizers enlarged the exhibition space by a further several thousands of cubic meters by modernizing the arrangement of halls and outdoor area.