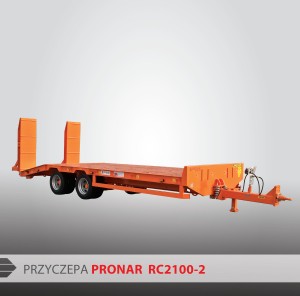 PRONAR trailer RC2100/2 is a perfect solution choice for those who appreciate functionality and reliability. Low bed trailer with permissible total weight 19 tons and it's equipped with tandem suspension. This trailer is equipped with single line hydraulic brake system. This new model is lighter and cheaper version of popular trailer PRONAR RC2100. The main purpose of PRONAR RC2100/2 is to use it for transport various types of agricultural machinery, tractors, excavators, wheel loaders or other type of trailers. It's possible to order hydraulic ramps which allows for very fast loading and unloading of transported machines. In addition, you may choose also a metal insole which makes that the whole floor is flat.
Support legs are welded to folded ramps and they ensure safety of loading even without connection to the tractor.

Mechanical and foldable support of the drawbar.

Frame made of double T-section profiles and with densely arranged transverse beams allows to transport heavy cargos with speed 40 km/h.

Perfect for agricultural, construction and transport.

5

POSSIBILITY TO TRANSPORT OF HIGH MACHINES

Short distance between platform and the ground.
Permissible total weight:
19000
[kg]
Load capacity:
14900
[kg]
Empty weight:
4100
[kg]
Loading space of the straight part of platform:
14.0
[m 2]
Loading space of the complete platform:
17.9 *
[m 2]
Length of the straight part of the platform:
5500
[mm]
Length of the complete platform:
7020 *
[mm]
Length of ramps:
1900
[mm]
Width of floor (with widening):
2540 ( – **)
[mm]
Overall dimensions (length/width/height):
9450/2550/2460 *
[mm]
Material of the floor:
wooden planks 45 mm
[mm]
Platform height, measured from the ground:
930
[mm]
Number of axles:
2
[pcs]
Axle load:
8000
[kg]
Drawbar towing hitch load:
3000
[kg]
Suspension:
parabolic springs
Tyres:
double 215/75 R 17.5
Maximum speed:
40
[km/h]
Load holders:
10
[pcs]
Tractor power requirement:
104/76.4
KM/kW
* with folded ramps
** RC2100/2 trailer can not be equipped with widenings
Standard equipment
Loading platform with wooden floor – front horizontal part
Loading platform with steel anti-skidding floor – rear inclined part
Fastenings handles in the floor, 10 pieces
Mechanically lowered ramps with protection against accidental opening
Fixed support legs mounted under the ramps at the rear of the trailer
Tandem suspenssion with 4 parabolic springs with fixed axles equipped in drum brakes
Drawbar type: fixed to couple with lower hitch of the tractor amortized with steel springs
Drawbar support: mechanical straight, folded leg
Drawbar hitch: rotary Ø50
Braking system: single line hydraulic
Crank hand brake
Lighting system 12 V with airtight connection, with front and rear LED clearence lights
Rear lamps with protective grating
Side underrun protection
Wheel chocks + racks (2 pcs)
Steel case at the front of the trailer
Warning triangle
Double-component chemically hardened painting materials, UV-resistant.
Paintwork: orange RAL 2008
Axles for 60 km/h, drum brakes 300×135
Straight part floor extension
Drawbar hitch: fixed Ø40
Drawbar hitch: fixed Ø50
Drawbar hitch: ball type K80
Hydraulic ramps
Enlarged hydraulic ramps (trailer taken from production line )
Enlarged hydraulic ramps (trailer taken from stock)
Drawbar support: hydraulic straight, folded leg
Braking system: double line pneumatic with automatic (ALB) braking power controller
Spare wheel: 1 or 2 (for one piece) hanged at the front of the trailer
Available other colors according to RAL CALSSIC codes (required RAL CLASSIC name and 4 digits from the color palette)