PRONAR manure spreader N262/2
Herkules N262/2 is the latest Pronar's response to the growing demand for high capacity and efficient manure spreaders. The machine on tandem suspension, of 18 tons loading capacity, can spread 18m3 of manure with efficiency of 4m3/min. An important feature of this model is the amortized drawbar with regulated hitch. It minimalizes vibrations which increases user's comfort.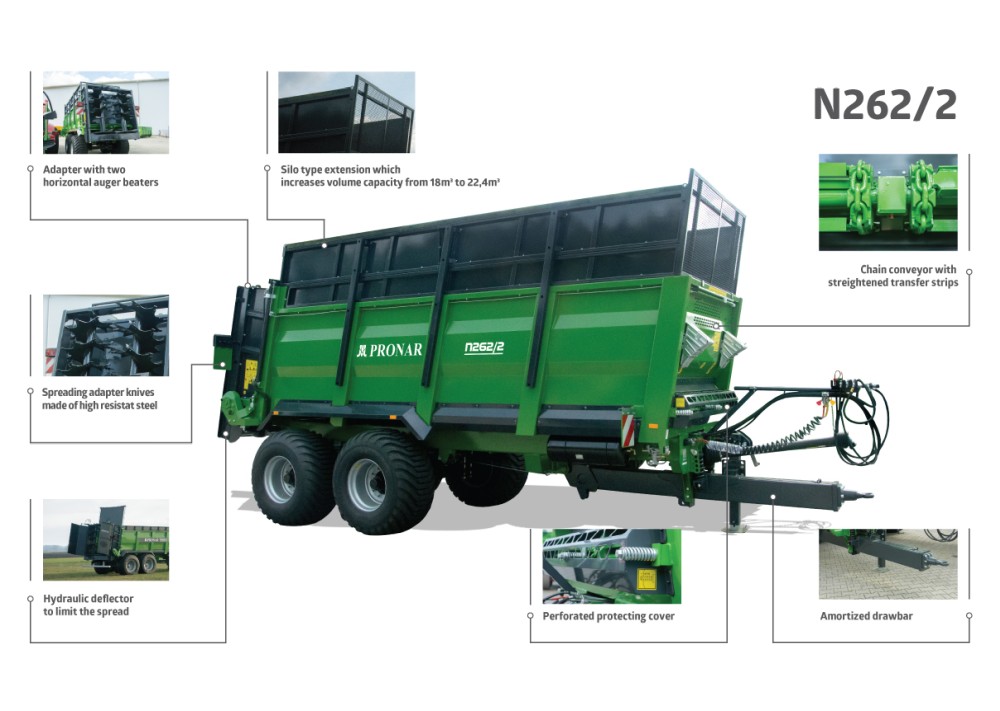 1

SUITABLE FOR DIFFERENT MATERIALS

The machine can spread manure; peat; lime and compost.

The spreader can be equipped with vertical spreading adapter with replacable vanes. In the future, it will be also equipped with horizontal one with wide spread mechanism.

The machine's standard loading volume is 18M3, sidewalls extensions are availible as an option- the loading volume increases to 22,1m3.

In order to increase driving comfort, the machine can be equipped with steered rear axle and different sizes of tyres.
Technical data
Permissible total weight:
22000
[kg]
Load capacity:
18000*
[kg]
Empty weight:
7600**
[kg]
Load volume:
18
[m 3]
Loading space:
11,1
[m 2]
Internal length of Loading space:
5600
[mm]
Internal width of Loading space:
trapezoid: 1955/1995
[mm]
Dimensions: length/width/height:
8780/2540/3450
[mm]
Sidewall height:
1200/300
[mm]
Floor/wall thickness:
4/3
[mm]
Platform height, measured from the ground:
1530
[mm]
Suspension:
tandem – parabolic springs
Hitch-ring load:
4000
[kg]
Tyres:
600/55-22.5
Construction speed:
40
[km/h]
PTO speed:
1000
[rpm]
Minimum tractor power requirement / adaptor type
170
[hp]
Adapter type / max spreading width
AV20/12
[-/m]
* Permissble construction parameters ( homologation parameters may differ )
** Parameters depend on the equipment specification
Standard equipment
• Monocoque loading case with 300 mm extensions
• Holes in the frontwall
• Wooden protection on top edge of the laoding case
• Front protective mesh
• Tandem suspension with 4 parabolic springs, 1500mm, rigid axles and 406×140 mm drum brakes
• Spreading adapter with 2 vertical beaters AV20
• Chain conveyor with four 14mm chains of high quality steel, with hydraulic drive and stepless speed regulation
• Control from tractor's hydraulic distributor (external tractor's hydraulic coupling required)
• Hydraulic rear shields
• Drawbar type: spring suspended to couple with lower hitch of the tractor
• Drawbar towing hitch: rotary with towing eye ø50mm
• Drawbar support: telescopic with two-step gear
• Braking system: double line air with manual braking force control
• 12V lighting system
• Folded ladder and access steps to the loading case
• Steel mudguards
• Wheel chocks + galvanized racks (2 pcs.)
• Double-component chemically hardened painting materials
• Sidewalls, drawbar, axles and conveyor mechanizm colour: green RAL6010 PRONAR
• Rear sliding wall, adapter, mudguards and front mesh colour: red RAL3000 PRONAR
• Green forage transport 500 mm extensions- load volume incresed to 22,2 (m3) (it is necessary to take off the adapter to mount the 300 mm extensions)
• Drawbar towing hitch: fixed ball type K80mm
• Hydraulic rear shields ( possibility to chose the spreading side- external tractor's hydraulic coupling required)
• Drawbar support: hydraulic, folded
• Rear steered axle (both axles; rigid and steered are 2100 mm height); hydraulic outputs rexuires (the width of the spreader exceeds 2500 mm for all wheels types)
• Braking system: double line air with ALB
• PTO shaft – standard
• PTO shaft – wide angle
• Tyres: 600/55-22,5; 600/55-26,5 (with suspension on rigid axles (axles 2000mm, longer than the standard) or on a steering axle (axles 2100mm, longer than the standard – spreader width exeeds 2550mm)
• Tyres: 620/50R22,5; 600/55-26,5; 600/55R26,5 (spreader width exceeds 2550 mm)
• Tyres: : 700/50-26,5; 710/45-26,5; 710/50R26.5 (with suspension on rigid axles (axles 2000mm, longer than the standard) or on a steering axle (axles 2100mm, longer than the standard – spreader width exeeds 2550mm)
• Spare wheel
• Warning triangle
• Non standard colours according to RAL CALSSIC codes