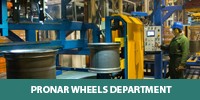 Further innovations bring Pronar closer to the position of the industry leader in the world. And they prove to employees that Narew is the place for their success
In a few weeks the Pronar factory in Narewka will launch two steel presses with a pressure of 3 and 5 thousand tons per square cm. The new devices will enable the extension of the company's offer to the needs of the most powerful construction machines and will allow the promotion of Pronar from the third to the second place of the disc wheel manufacturers in the world. Like all other production lines in Pronar, this one was also designed by engineers working in the company.
– Neither in Poland nor in Europe nobody is able to compete with us in the production of wheels anymore – says Sergiusz Martyniuk, President of Pronar Ltd. from Narew. – We owe our position to innovative solutions that no one else used before us. We have been working in this way for a long time and as you can see with good results.
-In my opinion, only large and stable companies can afford to create truly groundbreaking innovations,because this requires costly research, excellent staff and taking huge risks, which not every company can afford – adds President Martyniuk.- And that is why such companies can be the proverbial flywheel of the whole country's economy, with a clear supra-regional significance. Pandemic or not pandemic, we don't stand still.
Five thousand tons of pressure and hydroforming/strong>
Currently, Pronar's production capacity allows it to process more than one million disc wheels per year, in 500 sizes (from 12 inches to 54 inches) and in 9 thousand technical configurations. They reach clients in 70 countries on six continents.
The process of their creation is from beginning to end under the control of the company, which signs the final product with its brand. When a several-ton coil of steel goes to Pronar, its hardness and ductility are tested, and the origins of the raw material and properties are recorded and known at each stage of production. The quality of welds is confirmed by international certificates, and automatic rim profiling as well as disc processing lines have been designed by constructors working in the Development Office of the Wheels Department, which facilitates both their servicing and subsequent modernization. In the implementation of new solutions, the department is supported by the Pronar Research and Development Centre, where, among others wheels with tyres (complete wheels) are tested, i. e. – deformation, runout and fatigue tests are carried out. The analysis covers both newly implemented products and those long in production. The devices installed in the Research and Development Centre allow checking complete wheels up to 2. 30 metres in diameter at test pressures of up to 30 tonnes and speeds of up to 120 km per hour. And since Pronar's disc wheels are used in different latitudes, both in cold and hot climates, tests are also carried out in a powerful climate chamber where the temperature range varies from minus 40 to plus 80 degrees Celsius.
During the tests, vehicles equipped with Pronar wheels are subjected to simulated atmospheric phenomena characteristic for all seasons. The company's representatives emphasize that the standards that Pronar products meet are much more stringent than those required by law. And the research processes and devices are of course made by the Pronar team. Together with one of the American tycoons of agricultural machinery production, we developed, e.g. an innovative method of computer simulation and calculation of wheel durability, combining field, laboratory and numerical analysis.
-It allows to accelerate research processes and implement a given solution into production faster than the competition. We assure you, there is no other such laboratory in the world – says Jarosław Pawluczuk, head of the Pronar Research and Development Centre. Like many others, also the latest technological line, which will be launched in Narewka – including, among others the two German presses mentioned above with a giant pressure of 3 and 5 thousand tons per square cm – it is designed in the Development Department of the Pronar Wheels Division. It was the company's engineers who built a powerful robot to operate the presses, and also developed its control program.
– Launching this system will give the company new, great opportunities – explains head of Pronar Weels Technical and Development Department . – Both presses, unique in Poland, have pressures that we have not had so far, which allow to shape steel of higher strength and thickness over 20 mm. And besides, these machines are equipped with a hydroforming system that allows steel to be formed by using liquids at very high pressures of up to 4 thousand bar. That's a thousand times bigger than it is in the wheel tyres.
As Wojciech Tomkiel, head of the Pronar Wheels Department emphasizes, such technology allows for a more accurate shaping of steel in 3D space. Thus, it will be possible to produce disc wheels or discs with forms that have not come out of Pronar so far.
-Our main goal is to enter markets where we have not been present so far, i. e. heavy industrial wheels – mining or construction. Because in the field of agricultural or recycling machines we have already filled our place and it is time to move on. In this way, the company will be promoted to the second place on the list of the largest disc wheel suppliers in the world – adds Wojciech Tomkiel.
.
Innovations are the result of observation and creation
– A single machine, such as this new press, of course, does not provide full production capacity understood as a sequence of processes from the entry of a coil of steel into the factory to the exit of finished, packaged products – explains President Sergiusz Martyniuk. – There are a number of technological operations that have to be logically linked together. This is what our engineers do: they design the entire process line and design or select the machines needed to make everything work as we expect it. The presses we are talking about are integrated with a range of measuring, process recording, quality control manipulators and robots. Our designs are not typical. It is impossible to buy ready-made machines of such quality and functionality.
The creation of such a new, coherent line is not only the result of cooperation between technologists, constructors and automatics. The starting point for innovation is the desire to meet a specific developmental need of the company. This one also helps to identify the company's customers or the users of devices manufactured by Pronar or salespeople who work with clients every day and are perfectly able to "read" new phenomena or trends on the market.
– We have an extensive mechanism for identifying needs and problems – emphasizes the head of the Wheels Department – which also includes the verification of new concepts and solutions among the manufacturers of the machines designed by us or recipients of our products.
The impulse to create innovation is also the observation of products released by the competition. – We have noticed that by entering the production of disc wheels for heavy industry, we will provide Pronar with a universal offer – Wojciech Tomkiel points out – It's a huge commercial asset: to have the entire range of wheels in our portfolio, all wheels which exist in the world. That's what we'll achieve. And in this way we will become an even more interesting partner for large, global corporations, which for example produce both self-propelled mowers with wheels that fit in your hands and huge beet harvesters with powerful wheels weighing from 500 to 1000 kg!
A factory without people is only a model
Sergiusz Martyniuk, the President of Pronar, is deeply convinced that the strength of the company he manages is precisely its employees: their creativity, knowledge, openness to new solutions, courage, self-esteem.
– A factory without people is just a model – he waves his hand to emphasize the clarity of this phrase. – We need strong personalities here. People who will not be afraid to be surrounded by more individualities. This is the only way to break stereotypes in action, to see new opportunities and challenges coming from the world. This is how we operate: supposedly in the Podlasie province, yet without complexes, participating in the development of the latest global technologies.
– For example, we participated in a pilot project of one of the most powerful Japanese concerns, among others in the energy and automotive industry, which concerned premium machine control systems. Here in Narew, we were a European pioneer in the application of these solutions and we worked with the largest specialists from Japan – Wojciech Tomkiel gives an example of cooperation that can be the dream of any ambitious engineer. – We are open to young, educated people and we have a career path for them here. We lead them through production, departments supporting it, to the product designer. It often takes several years, but when such a man learns about the complexities of machines, the specifics of our business, the team, then we only fully use his intellect. Having confidence in a familiar environment, he can use his knowledge and ambition with impetus and courage. And to fill the gap that could arise in the creativity of our team as a result of burnout after many years of work.
Airborne minds and aviation challenges
As befits an extraordinary company, Pronar also has unusual challenges for its employees. In March 2020, the company – having its own airport and fleet – launched the Aviation Training Center. Airplanes or helicopters are used to improve service and business flights, while gliders and an ultra-light airplane allow people undergoing training to try their hand at learning how to fly under the guidance of experienced instructors. It is worth noting that there is no other glider school in Poland with such a modern fleet of aircraft, with such a small number of flight hours as the one in OSL Pronar.
The offer is addressed to those interested from all over the country and arouses great interest, as evidenced by the enrolment for 2021, and it is also available on preferential terms for Pronar employees. On the one hand, it provides them with an opportunity to develop their hobbies and lead a modern lifestyle, but on the other hand, it is also a kind of competence test.
– To obtain a glider pilot license, you must have good health, but also the desire to try something new, the ability to face your fears – the OSL instructors enumerate. – First fear is overcome and confidence in acquired skills is gained. Then comes the learning of thermal, or the recognition of warm air chimneys that raise us. We learn to read clouds that are falling apart and which create. We gain further insights and self-confidence, which is strengthened by long glider flights of 300-500 km or even longer, and additional experiences are provided by landing in different places, exploring new places and meeting new people.
– There is no denying that such interests may be indicative of leadership qualities, i. e. they are conducive to promotion. And they are as important to us as the product development department – says Sergiusz Martyniuk, President of Pronar.