Mobile slow-speed shredder PRONAR MRW2.85 & PRONAR MRW 2.1010 are complement the range of machines for recycling. Machines fill a niche of for pre-shredded material handlersfor all kinds of waste treatment installations: municipal, large-scale construction, pallet, logging residues.
Mobile slow-speed shredder PRONAR MRW2.85 & PRONAR MRW 2.1010 – XXI century machines!!!
The smaller model on a wheeled chassis can be transported on public roads at speeds up to 100km / h. The additional ball coupling allows for aggregation with construction machinery.
PRONAR MRW 2.1010 is equipped with caterpillar drive. Track control  track is done with a wireless remote control. This allows for quick and easy replacing the machine to obtain an  equal heap of shredded material without involving additional tractors.
Pronar shredders are powered by reliable CAT or Volvo Penta engines
Maximum shafts torque in MRW 2.85 is achieved with a 400 horsepower engine through a planetary gear. Thanks to these parameters, the machine copes well with all kinds of materials commonly found in municipal enterprises, composting and waste sorting facilities.
MRW 2.1010 with an 760 hp engine has powerful torque, sufficient to crush car bodies, engine blocks, etc.
All elements which have direct contact with shredded material & the shredding shafts are made of wear-resistant steel which ensures long and trouble-free operation. The simple design allows for quick changing of the shafts. The fraction is obtained by using various types of crushing beams on & knives mounted on the shafts.
An additional neodymium magnet separator allows for removal of ferrous fraction from the output material.
All machine functions are available from the control panel. The touch panel provides access to the control parameters of the machine and adjustment of hydraulics settings. Wireless remote long-range work provides ergonomic support for reducing the costs associated with adapting the machine to the current working conditions..
Mobile slow-speed shredder PRONAR MRW2.85 & PRONAR MRW 2.1010 –

features

: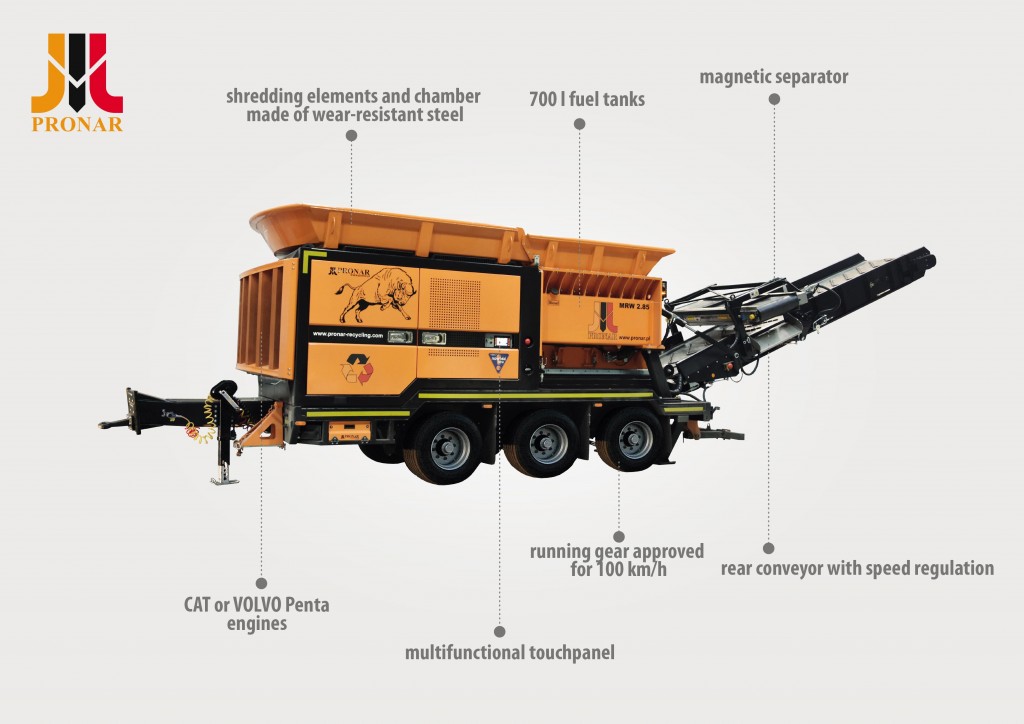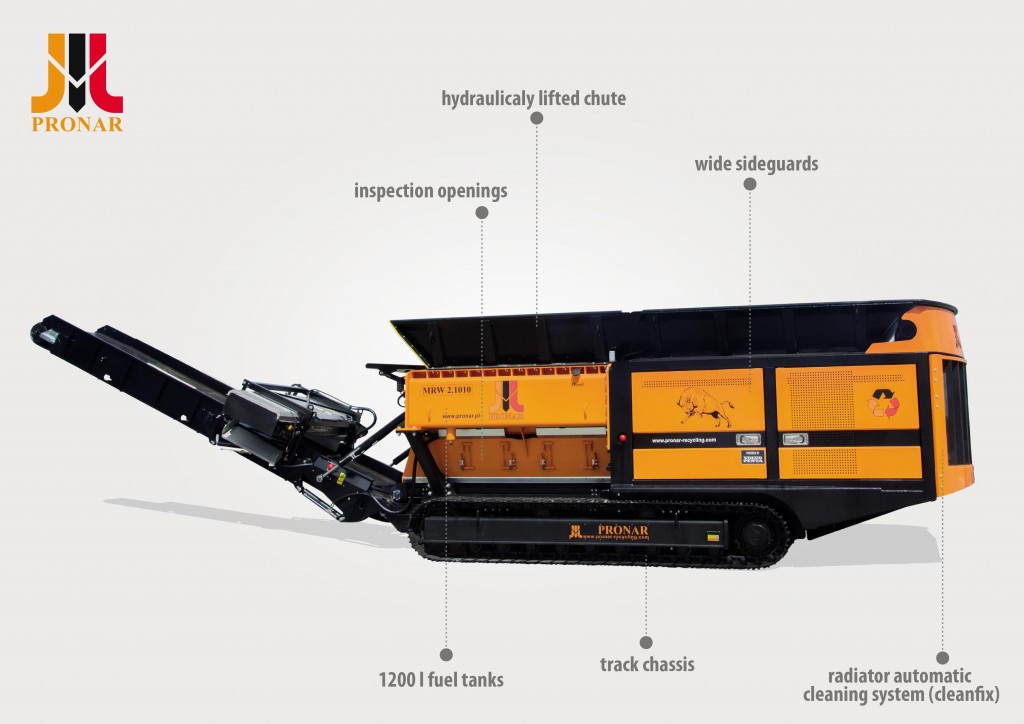 REAR CONVEYOR WITH SPEED REGULATION

Allows the user to adjust material transportation speed to current needs.

Removes ferromagnetic elements from the input material to direct them for further processing.

SHREDDING ELEMENTS AND CHAMBER MADE OF WEAR-RESISTANT STEEL

Grinding shafts and hopper elements made of wear-resistant steel for long-term operation..

RADIATOR AUTOMATIC CLEANING SYSTEMS (CLEANFIX)

Application of the reverse cooler fans allows cleaning of accumulated dirt which facilitates heat exchange of coolant and hydraulic oil and protecting them from overheating.

MULTIFUNCTIONAL TOUCHPANEL

Convenient panel allows to control status of the machine and setting optimal operating shredding parameters.

RUNNING GEAR APPROVED FOR 100 km/h

The trailer is equipped with ABS and ASR systems and allows shredder to transport public roads at speeds up to 100km/h..

Wide-opening doors provide trouble-free service access to the large space in the engine compartment.

HYDRAULICALY LIFTED CHUTE

Chute lifting allows easier pushing of large objects into the shredding chamber and reduces possible downtimes.

Wide openings allow for easy access to the work chamber.

ZLarge volume of fuel tanks 700 (MRW 2.85) or 1200 liters (MRW 2.1010) for machine longer work without interruption for refueling..

Tracks- driven from the shredder's hydraulics allow adjustment of machine's working position without involving any additional vehicles and comfortable piling of shredded material.

CAT or VOLVO Penta engines

High-capacity diesel engines power all hydraulic drives of the machines.
Mobile slow-speed shredder PRONAR MRW2.85 & PRONAR MRW 2.1010: