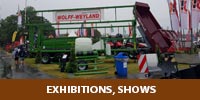 From 26th to 31th of July we had a pleasure to take part in one of the biggest trade fair for agricultural machinery and equipment in Belgium.
220,000 visitors had a chance to see variety of different equipment presented by 800 exhibitors. Those numbers make this trade fair a very successful venture that constantly attracts breeders and specialists from all over the world. Foire de Libramont  is one of the most important trade fairs for Benelux agriculture business.
Such an event undoubtedly makes it worth to be there. Hence, Pronar couldn't allow to miss such an opportunity and we were represented by our importer. Not only had visitors a chance to see, very successful on that market hook lift trailers T185, T286,  but also NV161/3 and N262/1 manure spreaders. Many visitors were interested in T028KM with hydraulic walls as well as well as in our new Half Pipe trailer T701HP.
Our dealer's efforts succeeded in new contacts and new business agreements.