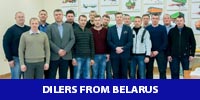 Between 18-19.02.2019 took place a product and service training for representatives of our dealer in Belarus. The main topic of the training was service, functionality and the first launch of agricultural PRONAR machines.
The training consisted of theoretical and practical part during which participants under the supervision of our service staff had the opportunity to set the parameters of the machines, so that at the first launch they achieved full functionality. The representatives of Belarus dealer also had a chance to visit factories in Narew, Strabla and Narewka.
The combination of both types of training along with learning about the main stages of production is crucial to understand the process of proper use and servicing of machines. It is also a guarantee of future long-term and trouble-free operation of the machines.