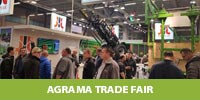 Between 29th November and 3rd December, Pronar took part in Agrama Trade Fair in the capital of Switzerland – Berno. The exhibition takes place every two years and is the most important agricultural event in Switzerland.
Pronar presented several of his products during the event. Customers could see a bale trailer with hydraulically lifted walls – T028KM, hook lift trailers model T185 and T285, grain trailer model T669/1 with three-side tipping system, trailer with portal wall model T683P and a bale cutter.
Agrama trade fair is created for Swiss agriculture.
Over a few days, more than 50 thousand visitors came to the fair. Many of them already knew well the Pronar brand. What is more, wide range of Pronar machines is also available in Switzerland.
During the year 2018, Pronar participates in many trade fairs – both in Poland and abroad. The great interest of visitors during exhibitions in the machines from Narew confirms company's international character.
Pronar products are already sent to over 60 countries around the world.