Snow plow PRONAR PU-S25HL, PU-S27HL, PU-S30HL, PU-S34HL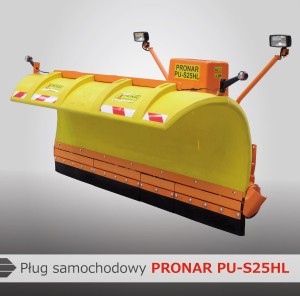 Snow plow PRONAR PU-S25HL, PU-S27HL, PU-S30HL, PU-S34HL are designed for aggregation with trucks and municipal vehicles such as the Unimog are great for snow removal on expressways ,motorways, other roads and city streets. The special design of light but durable plastic mouldboard with shape-memory provides a great solution for contractors and cleaning companies. All steering is done via a panel in operators cab which is responsible for change of direction, lifting/ lowering of the plow. Thanks to the standard floating position the machine follows the terrain for smoother de-snowing, a special clamp feature comes in handy with hard bulks of snow.
The electrohydraulic powerpack requires only an electric Power supply to operate All hydraulic functions.

Manufactured according to top safety standards, additional equipment (marker flags, shock absorption) minimise the risk of crashes and damage.

Mouldboard made of durable plastic in rotomoulding technology.

Mouldboard made of plastic.

All functions steered by a control panel In driver's cab.
| | | | | | |
| --- | --- | --- | --- | --- | --- |
| | | PU-S25HL | PU-S27HL | PU-S30HL | PU-S34HL |
| Working width | mm |  2350 – 2690 |  2570 – 2945 |  2825 – 3235 | 3160 – 3630 |
| Max steering angle | [± °] | 30 | 30 | 30 | 30 |
| Working height | mm | 930 | 1060 | 1060 | 1060 |
| Electric Power suuply | V | 12 lub 24 | 12 lub 24 | 12 lub 24 | 12 lub 24 |
| Carrier max. payload | t | 6 | 8 | 8 | 8 |
| Weight | kg | 450 | 530 | 550 | 590 |
| Mounting | – | Type A or B | Type A or B | Type A or B | Type A or B |
Rubber blades with shock absorbtion
Steel blades with support wheels
Support wheels
DIN type B mounting plate
Warning plates and flags
Without the powerpack
2 turning cylinders
Without Erich Jaeger connector
24V electrohydraulic steering with floating position
12V electrohydraulic steering with floating position & clamp
12V electrohydraulic steering with floating position
DIN type A mounting plate