Single axle Pronar trailer T046H is the new cattle trailer in our offer. The construction of the trailer is well prepared and allows for safe and comfortable transport of up to 8 heads of cattle (up to 700 kg) or 10 heads of cattle (up to 550 kg). Cattle loading and unloading can be faster thanks to hydraulically lowered body with wide door and optional side barriers. Cattle comfort and safety is increased thanks to high walls (1,5m) and hydraulic shock absorbers of the suspension which minimalizes any bumps and vibrations while driving.

Additional anti-sliding, rubber layer and standard lace cover together with high sidewalls and optional inner cattle separating wall, provide safety of the cattle transported. The hydraulical shock absorber reduces stress of the transported cattle.

2

TIME AND COST OPTIMIZATION

The chassis can be lowered to 20 cm from the ground, eliminates the necessity of using a loading platform. The standard lightning enables to load the cattle even in the dark. Optional barriers make cattle loading easier.

3

PERFECT FOR MOUNTANIUOS AREAS

The suspension system facilitates manoeuvring the trailer and going backwards. It is a huge advantage in narrow and winding mountain roads, where every centimeter matters.

Side door facilitate access to the tranpsorted cattle. A wide range of additional eqquipment (spare wheel; tool box) makes it easy to customize the trailer to individual needs of the user. Trailer can be easily cleaned thanks to painted walls and drainage holes.
Allowable total weight:
11000
[kg]
Load capacity:
7850
[kg]
Empty weight:
3150
[kg]
Loading space:
13,2 *
[m 2]
Loading case inside length:
6290
[mm]
Loading case inside width:
2240
[mm]
Loading case inside height:
2100 **
[mm]
Dimensions: length/width/height
8320/2550/2860
[mm]
Sidewall height:
1500
[mm]
Floor/ sidewalls thickness:
4/3
[mm]
Platform height, measured from the ground (transport position/ loading position):
700/200
[mm]
Wheel track:
2160
[mm]
Suspension:
hydraulic (single axle)
Hitch-ring load:
2000
[kg]
Tyres:
385/65R22,5
Maximum speed:
40
[km/h]
Tractor power requirement:
41,6/30,6
[hp/kW]
* surface without inner wheel arches
** height from the ground to the highest point of the canvas cover frame
Standard equipment
• Hydraulically lowered loading case facilitating animal (un)loading
• Chassis frame made of steel closed rectangular profiles
• Side doors (on the right) facilitating access to the transported cattle
• Wide-opening of rear door
• Sealed chequer plate floor with two drainage holes
• Single axle suspension with 2 hydraulic cylinders fitted with drum brakes (406×120)
• Hydraulic vibration shock absorbers
• Drawbar towing hitch: rigid, to couple with lower hitch of the tractor
• Drawbar towing hitch: rotary with towing eye 50 mm
• Drawbar support: hydraulic with single-step gear
• Braking system: double line air with manual braking force control
• Crank hand brake
• Lighting system 12V (LED)
• Spiral lightning system cable
• Laced cover frame
• Laced cover
• Wheel chocks + galvanized racks
• Double-component chemically hardened painting materials, UV-resistant
• Platform painting colour: green RAL6010 PRONAR
• Chequer plate floor with two drainage holes covered with 15 mm anti-sliding and damping resin, covered with 15 mm rubber layer
• Drawbar towing hitch: fixed upper with 40 mm towing eye
• Drawbar towing hitch: fixed ball-type K80 mm
• Drawbar support: hydraulic with ball cut-off valve
• Braking system: double line air with automatic braking force control (ALB)
• Braking system: hydraulic
• Cattle separating inner wall (on guide)
• Fixed inner wall with adjustable position
• Rear gate securing rear double doors
• Loading facilitate side barriers (on guide)
• Additional light in loading case
• Tube for documents
• Spare wheel with support and winch
• Tyres 400/60 15.5 (trailer width 2605mm)
• Warning triangle
• Non standard colours according to RAL CALSSIC codes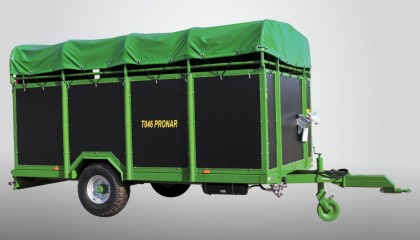 Single axle trailer Pronar T046 is the smallest one for the animal transport on offer.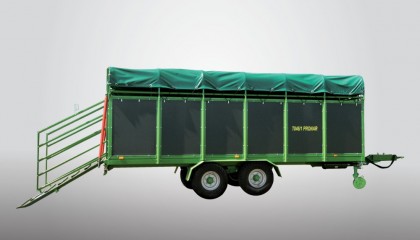 PRONAR T046/1 is a medium-sized trailer for an animal transport, that can comfortably accommodate and transport about 10 pieces of cattle.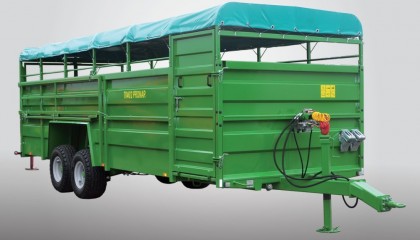 PRONAR T046/2 is equipped with a hydraulic system of drop-down-system of the body, which allows to lower the rear edge of the floor.