Snowblower Pronar OFW 2.6 is the ideal device for removing thick layers of snow, ice and slush, especially dense from any surface, regardless of its thickness and structure. It will prove ideal on residential streets, roads, parks and very large areas, and places where the plow is not able to remove the snow cover or the it is necessary to collect and transfer the material aside. The working width of 2,6m allows de-snowing of large surfaces in just one pass.
The OFW 2.6 Snowblower may be aggregated with carriers equipped with PTO drive The 1000 rpm drive ensure fast and smooth operation. Additionally the machine has a universal transmission allows for attaching with machines that have euither left, or right rotation direction. The machine also has an adjustable working angle of angle +/- 10 *, which allows to force the working position. The snowblower may be aggregated the most popular media, with the suspension of three-point linkage cat. II/ III, DIN plate type A or B, Setra plate.
The cutting-rotor system used in Pronar OFW 2.6 ideally meets the requirements of snow removing machines. The combination cutter- (ideal to reject very hard snow) with rotor- system (very good for soft and friable snow) ensures the optimal operation and efficiency on all types of snow and in all conditions.
Snowblower Pronar OFW 2.6 – features: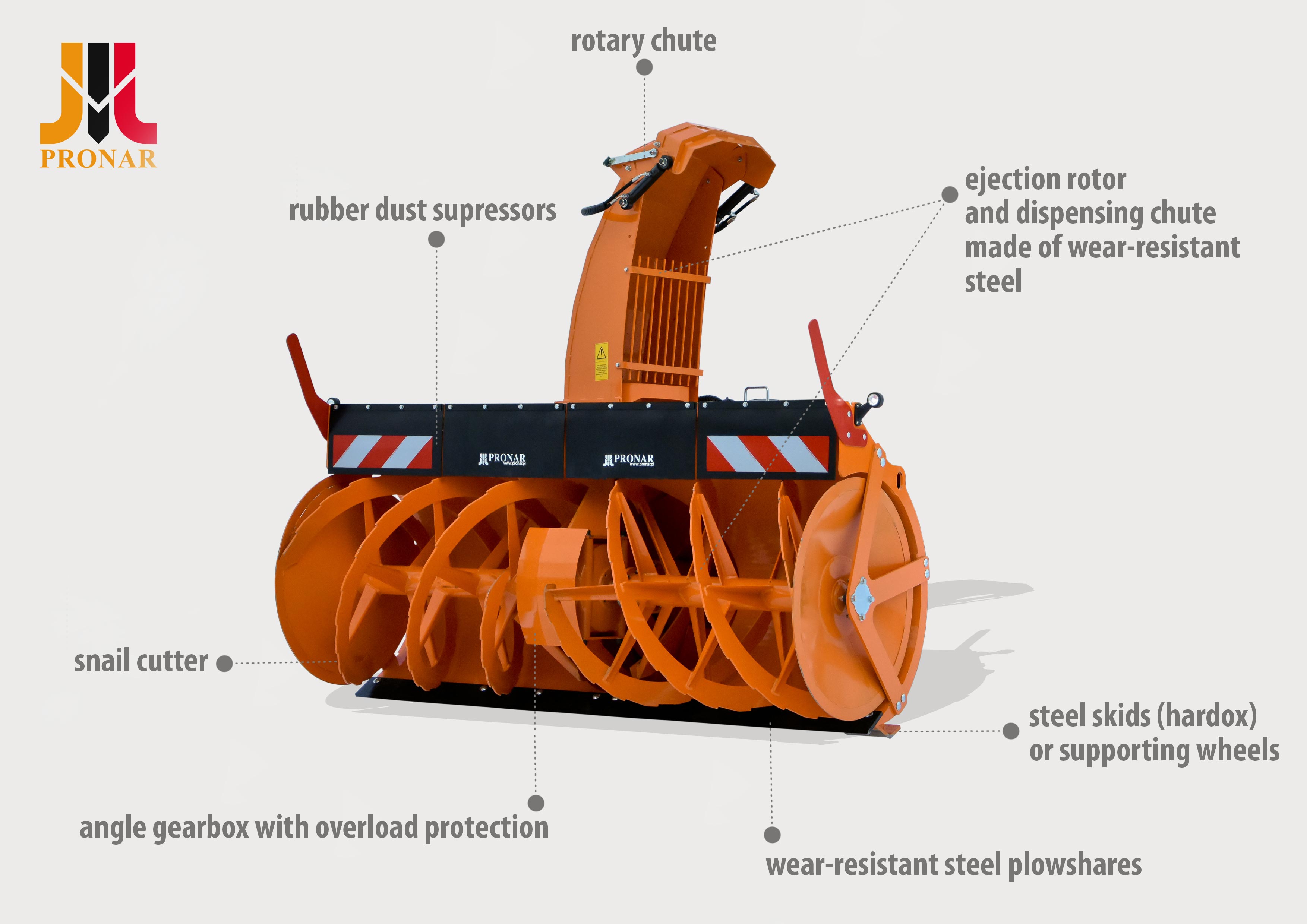 Allows to change the direction of ejection and allows easy loading on trailers or long-distance snow rejection (up to 30m)

STEEL SKIDS (HARDOX) OR SUPPORTING WHEELS

Relieve the suspension

EJECTION ROTOR AND DISPENSING CHUTE MADE OF WEAR-RESISTANT STEEL

Provide long-term trouble-free operation in harsh environments

ANGLE GEARBOX WITH OVERLOAD PROTECTION

Secure the machine against damage in case of a sudden stop of the screw.

WEAR-RESISTANT STEEL PLOWSHARES

detach the layer of snow on the ground

SNAIL-CUTTER FOR REMOVING FROZEN SNOW AND ICE

Breaks the ice and allows smooth end easy transport to the rotor.

Protects against dusting and improve operator comfort.
Working width
2,60
 m
Working height
1,25
 m
Blowing distance
5-30
 m
Efficiency
4600
 m3/h
Snail diameter
950
 mm
Rotor diameter
880
 mm
Mounting
3pt hitch cat. II / III
Power requirement
min.100
 kW
PTO speed
1000 rpm
 left/right
Working speed
max. 2km/h
Guiding
skids
Weight
1670
 kg
DIN type A mounting(plate and fastening elements)
DIN type B mounting(plate and fastening elements)
SETRA mounting
Joint telescopic shaft
Supporting wheels