Rotary tedder Pronar PWP460
Rotary tedder PWP460 is the latest model in Pronar's range of tenders. Rotary tedder Pronar PWP460 is designed for spreading freshly mown grass or scour lightly dried hay, in order to speed up the drying process. PWP460 evenly spreads and rolls the material without destroying. It also deprives the material of the earth, peat, so that in the final stage received feed is free from contaminants. Robust design makes the rotary tedder reliable and efficient, high-quality workmanship ensures a long service life. Rotary tedder Pronar PWP460 follows the ground perfectly and allows you to work on the slopes. Possible aggregation with small tractors makes it the perfect device for each farm, irrespective of their area or meadow location. Additionally, thanks to a simple and uncomplicated construction of the machine, the operator can very quickly set the appropriate machine parameters.
Features of rotary tedder Pronar PWP460: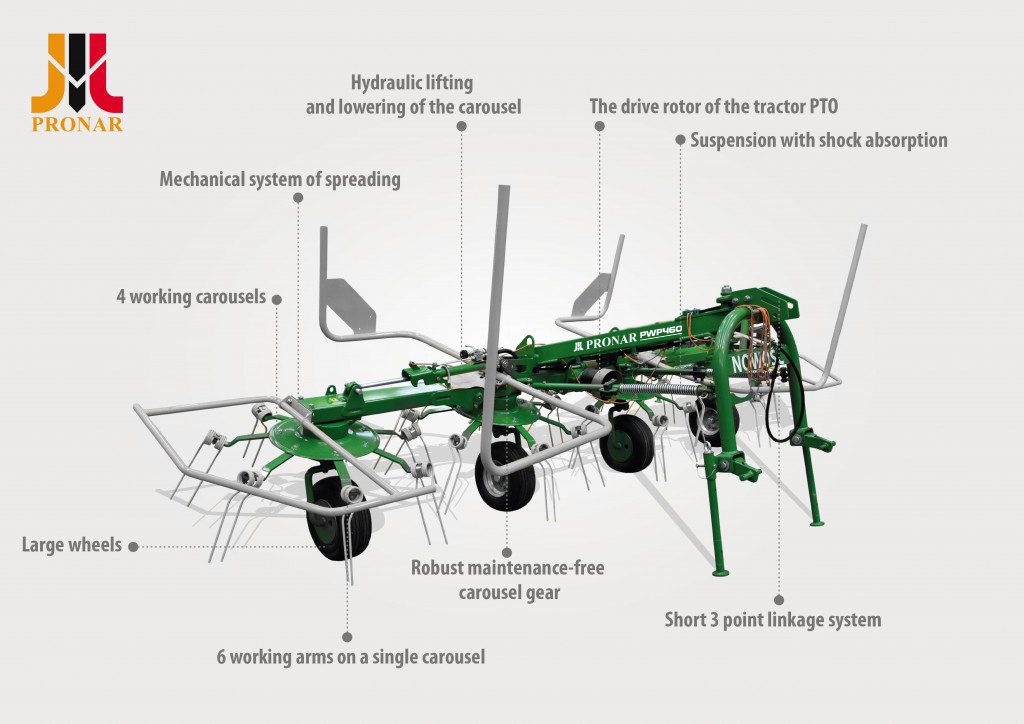 LINKAGE SYSTEM : SHORT 3-POINT

Tedder PWP460 is aggregated with the tractor by 3-point hitch. Short suspension system makes the center of gravity close to the tractor, which essentially affects the distribution of the forces acting on the device and improves safety when driving.

ROTOR DRIVE WITH TRACTOR PTO

Tedder PWP460 can be aggregated with tractors with a minimum power of 30 hp and a maximum speed PTO 540 rpm . The rotors are driven by the tractor PTO shaft and articulated-telescopic with overload clutch on the main gearbox and four angle transmissions transferring torque to the rotor.

HYDRAULIC SYSTEM LIFTING AND LOWERING CAROUSEL

Tedder PWP460 arms are lowered and lifted by cylinders controlled directly from the tractor. This ensures comfort and convenience of operation. Transport position of the tedder and warning signs fitted as standard ensure safety during driving. In addition, the submission of the arms of the tedder in transport position reduces its size, thanks to this solution unit requires less space for storage.

Tedder PWP460 is equipped with 4 working carousels.

6 WORKING ARMS ON A SINGLE CAROUSEL

Tins applied on the working arm are characterized by: a strong and stable mounting and construction which guarantees long usage.

STRONG MAINTENANCE-FREE GEAR CAROUSEL

Gear used in tedder PWP460 is strong, solid, filled with maintenance- free grease lubrication

MECHANICAL SYSTEM OF SPREADING

To avoid spreading of the material on neighboring fields, the tedder PWP460 uses a mechanical system to scour the border. Each wheel can be set so that tedder will work at an angle and evenly scattered the crop.

The use of the tedder PWP460 large wheels ensure a quiet driving, even on rough and unstable ground. Wheels reduce the pressure on the ground, so it is not damaged in addition the cut material is not indented in the turf.

SUSPENSION WITH SOCK ABSORPTION

Suspension with sock absorption in tedder PWP460 provides comfort during work and perfect ground following. The device responds to even the smallest bumps, making work more efficient and increase the life of spreading the tine.
Total length
2400
mm
Width in working/transport position
5000/2990
mm
Height in working/transport position
1700/3900
mm
Working width
4600
mm
Number of rotors
4
pcs.
Number of operating arms on one roto
6
pcs.
Suspension type
active, shock absorption
–
Suspension hitch
Cat. I and II acc. to ISO 730-1
Type of the central transmission
wet (oil bath)
Type of rotary transmission
maintenance-free ( grease lubrication)
Overload protection
Clutch 900 Nm
Minimum tractor power requirements
22/30
kW/KM
Maximum PTO speed
540
rpm
Weight
600
kg
Recommended working speed
10
km/h
Working efficiency
4,6
ha/h
Tyres
16×6.5 – 8 (6PR)
–
Required tractor hydraulic outputs
One double-acting section with floating position
rpm
Adjustment of the spreading angle
Manually, each wheel separately in the range of 13º, 16º, 19º
º
Tedding near the field border
After manual wheel adjustment ( each wheel separately)
–
Lifting the rotors to transport position
Hydraulic – synchronized
–
Ground following abillty:
up
up to 30º
–
down
up to 6º
–
PTO shaft
Standard