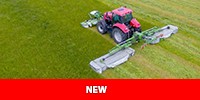 This year's novelties in the Pronar family of green forage harvesting machines have been designed with the needs of farms with large grassland areas in mind. Pronar is the first company in Poland to introduce a double-sided disc mower with an effective cutting width of more than 10 meters. The machines will leave the factories to work in the fields even before this year's first mow.
With their maximum working width of 10.5 m (unique among the mowers offered by Polish manufacturers), PDD1050 and PDD1050C disc mowers (with swath conditioner) should meet the expectations of farmers focused on maximum mowing performance. These rear-mounted mowers achieve the greatest efficiency when cooperating with a front-mounted mower with a working width of at least 3.4 m, but they can as well cooperate with smaller front-mounted mowers. For example, the mower's working width can be hydraulically adjusted to 9.7 m and a front-mounted mower with a working width of 3 m can be hitched. Tractor power demand in the best possible mowers configuration is 200 KM (without swath conditioner) and 250 KM with this additional equipment. The cutterbars, as in other models of Pronar mowers, are made by Pronar, so spare parts are always easily available.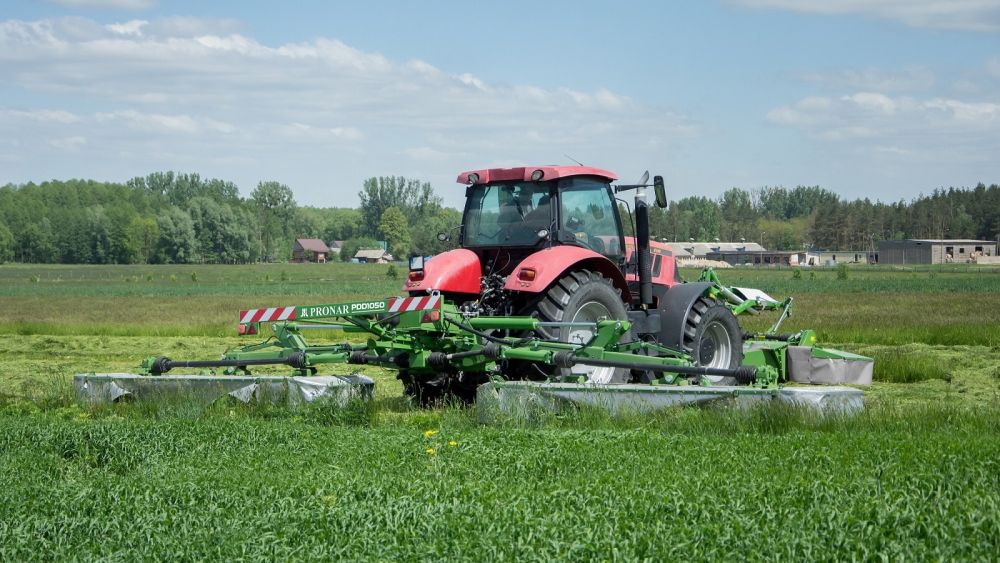 The operating parameters of both machines are controlled on a clear operating panel, which is best placed in the tractor cab for the maximum operator's convenience. On the operating panel you can not only set the mowing width of the mowers set (minimum 9.7 m), but also control the condition of the fuses, the overlapping of the front / rear cutting areas and the status of the floating function on the left and right side. In addition, you can fold the mower to the transport position and adjust the pressure in the hydraulic relief cylinders. The hydraulic relief system is a significant feature of the two new mowers. The system enables faster, more comfortable and more precise adjustment of the relief level, thus reducing the mowing resistance and, consequently, also the load on the tractor and the turf.
PDD1050C mower is equipped with a tine swath conditioner, which significantly accelerates grass drying and, consequently, increases the efficiency of the harvesting process. Swath conditioning intensity can be easily selected depending on the grass condition and specific needs. A convenient to operate and easily accessible lever enables five-step adjustment.
The range of mowers manufactured by the company from Narew includes already 17 machines: front-mounted, double-sided and rear-side mowers. The family of Pronar forage harvesting machines also includes swath tedders (5.3 to 9 m), rotary rakes (3 to 9 m) and self-loading bale wrappers. This year the company intends to launch the first four-rotor rotary rake (ZKP1400) manufactured in Poland. Pronar also manufactures mulching mowers. After launching the first KPR500 model, the company prepares the next mulching mowers with larger working widths.